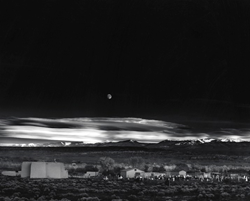 artnet Auctions is pleased to present Into the Wild: Landscapes, Animals, and People, celebrating photographers who focus their lens on the natural world
New York / Berlin (PRWEB) May 21, 2014
artnet Auctions is pleased to present Into the Wild: Landscapes, Animals, and People, celebrating photographers who focus their lens on the natural world. This curated selection of photographs includes works ranging in value from US$2,000 to 80,000.
This sale features many classic landscapes, including works by Massimo Vitali, Hiroshi Sugimoto, Richard Misrach, and Ansel Adams. A major highlight of the sale is one of Adams's most well-known works Moonrise, Hernandez, New Mexico (1941), captured after a less-than-successful day of photographing in the New Mexico desert. Reportedly, Adams nearly ran his car into a ditch to capture the precise effects of the moonrise in the late afternoon.
Also included in Into the Wild are a selection of animal portraits by famous photographers, including Peter Beard, Sebastião Salgado, and Nick Brandt. Elephant with exploding dust, Amboseli (2004), estimated at US$60,000 to 80,000, and offered in platinum-palladium, was featured on the cover of Brandt's book On this Earth: Photographs from East Africa, and has since become one of his best-known images.
The human element is represented by Contemporary masters Alex Prager, Sally Mann, Ruud van Empel, and famed Malian photographer Malick Sidibé. In Alex Prager's Joan (2007), estimated at US$9,000 to 12,000, a somewhat distraught camper is depicted roughing it in the suburban wilderness. The Last Time Emmett Modeled Nude (1987), by Sally Mann, is a sublime image of her son on the cusp of adulthood in a pool of water. Estimated at US$18,000 to 22,000, this is an excellent opportunity to collect a beautiful and important photograph. Also included in the sale are two photographs by Ruud Van Empel, Untitled #1 (2004) and Untitled #2 (2005), haunting images of young girls posed in a copse of birch trees, each estimated at US$8,000 to 10,000.
Into the Wild: Landscapes, Animals, and People is live for bidding on artnet Auctions from May 20 through 29, 2014, and is on view at http://www.artnet.com/auctions/search/?q=keyword-wild_2014-category-all-artworks-active-auctions-only/&utm_campaign=pressrelease&utm_source=52114wild&utm_medium=link/.

For more information about this sale, please contact artnet Auctions specialist:
Bree Hughes
Specialist, Photographs
+1-212-497-9700 ext. 121
bhughes(at)artnet(dot)com
About Us:
artnet is the leading online resource for the international art market. Established in 1989, artnet provides reliable information and market transparency to art collectors. With our comprehensive suite of products, artnet can empower anyone with a passion for art.
With 24/7 worldwide bidding, artnet Auctions & Private Sales is a dynamic marketplace for collecting art. Our online auction platform provides a unique collecting experience with seamless flow between consigners, specialists, and collectors. Our auctions and private sales community influences new collectors and inspires everyone to collect art.