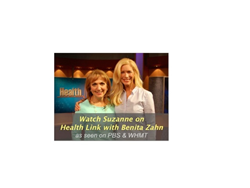 At the end of life we realize that the care and support of one another is the most powerful human connection there is.
(PRWEB) May 21, 2014
Stirred by her experience as a hospice and oncology nurse, Suzanne B.O'Brien developed community education programs to help support patients and families with end of life choices and care. An End of Life Doula is a non-medical person who gives support physically, emotionally and spiritually to another person. The EOLD is a companion to the dying and their family helping to support them when being cared for at home in the last precious phase of life. The level 1 doula training is for families own understanding of the end of life process so that they are better equipped to help their loved ones. This is a skill that was handed down in generations 100 years ago, but somehow got lost with the many medical advances of modern medicine. We have forgotten as a society that dying is a natural part of our life's journey. The level 2-doula training is geared for those seeking a more in depth understanding of end of life care and for those wishing to pursue being an end of life doula as an occupation. Level 2 participants have an option to take an examination that upon successful completion he or she will receive the End of Life Doula certification.
O'Brien has developed the Doula training program to educate, support and inspire 'community to take care of community' at end of life. According to O'Brien, "78 million baby boomers started turning 65 last year. Research shows 9 out of 10 terminally ill people want to be kept at home during their last days. The same research shows that the number one fear of the dying patient is becoming a burden to their family."O'Brien is offering 3 levels of Doula training in Albany in June:
PRE-REGISTER for all EVENTS AT http://www.suzannebobrien.com TODAY
JUNE 7: DOULA: A BRIDGE TO END OF LIFE CARE will cover everything from how to start end of life conversations to securing end of life wishes with advance directives as well as how to care for a loved one at home. Fee: Love donation
JUNE 28: END OF LIFE DOULA WORKSHOP LEVEL ONE: Holiday Inn, Wolf Road, Albany 1-5pm., Fee: $87
JUNE 29: END OF LIFE DOULA WORKSHOP LEVEL TWO: Holiday Inn, Wolf Road, Albany 1-5pm; Fee: $187 certification exam additional $ 99.00
O'Brien recently appeared on WMHT/PBS HEALTHLINK hosted by Channel 13 Health Reporter, Benita Zahn. According to Benita, "Suzanne O'Brien eloquently explains the need for greater support of loved ones at end-of –life and she brings a unique perspective to palliative care."