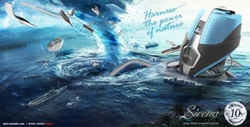 NEVER BUY BAGS AGAIN
Ottawa, Ontario (PRWEB) May 22, 2014
Sirena Inc. was thrilled to return to Las Vegas for the 2014 VDTA show this past February. Last year Sirena introduced their prototype water filtration vacuum and created an industry stir. "There has never been a high quality water filtration vacuum designed for retail sales," stated company President Toufic (TK) Khayrallah. "Up until now consumers had basically 2 choices, pay very high prices for similar units sold door to door, or settle for inferior quality," he went on to explain.
The Sirena total home cleaning system is a unique bagless vacuum cleaner which features water as its primary filtration, and uses a HEPA for non-water soluble materials. There was a constant flow of dealers stopping to watch Executive Salesman Kevin Thomas put on quick demonstrations on the unit. Dealers were impressed with the power and versatility of this new machine. By adding a variety of scents (sold separately) to the water the Sirena will function as an aromatizer, making your home smell great while you vacuum. Traditional vacuums store dirt in a bag, sometimes for months at a time, and this creates a perfect environment for germs and bacteria. These germs and bacteria are then exhausted into the air when you turn the machine on (creating a foul smell and polluting your indoor environment. The Sirena system has no such problem thanks to the water which is economical and dumped with each use.
The water filtration system that the Sirena uses is not only the healthiest, but also the most efficient. Water does not clog the way that vacuum bags and filters do, therefore when using your Sirena you will get 100% cleaning efficiency 100% of the time. "This cleaning efficiency is especially useful when cleaning furniture and mattresses," explained Kevin Thomas, "nothing will eliminate dust mites as efficiently". Dust mites thrive off of our dead skin, and large populations are found in fabrics such as sofas, or more abundantly in our beds. Doctors who specialize in breathing disorders recommend vacuuming your mattress at least once a month to control the problem.
Pet owners will also love the way the Sirena removes pet fur and dander. Environmentalists can take comfort in the fact that water is much more environmentally friendly than the chemical processes used to make bags and filters.
Widely available throughout North America the Sirena system is by far the best value for your money. To find a retailer near you, or for more information, visit the Sirena website.
Contact us:
Sirena Inc.
5459 Canotek Rd.,
Ottawa, ON Canada K1J 9M3
Phone: 613-695-6444
Fax: 613-695-6414
Toll Free: 1-855-474-7362