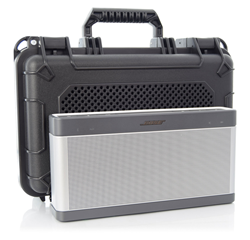 Our customers love Bluetooth speakers and we are here to ensure their devices are securely protected no matter where they want to enjoy them.
Atlanta, GA (PRWEB) May 29, 2014
AudioActiv™ expands the VAULT™ series with a new case model for the Bose Soundlink III™. VAULT cases are the first protective enclosures designed to safeguard portable speakers from water, dirt, shock and more, all while delivering colossal sound through a patent pending technology called AudioClear ™. Music lovers can now enjoy high-end wireless speakers in places never considered possible.
VAULT cases enable users to enjoy the best portable speakers while keeping them looking and sounding great. AudioActiv's VAULT series established an excellent reputation with models for the Jawbone JAMBOX™ family of portable speakers and other speakers from manufacturers like Bose and Braven. The latest addition to the VAULT line-up further demonstrates AudioActiv's ability to create a case with tough, rugged durability and a polished, functional design.
"This new addition to the VAULT line-up is our third product to support the Bose Soundlink family of Bluetooth speakers," says David Sanborn, President, AudioActiv. "Our customers love their Bluetooth speakers and we are here to ensure their devices are securely protected no matter where they want to enjoy them."
AudioActiv established a foothold in the protective case market with their launch of the original VAULT case in late 2012. Since that time the company has amassed thousands of customers due to their unique ability to deliver serious protection, unbelievable sound and long-lasting durability for some of the best-selling portable speakers in the market. More information on VAULT cases can be found at: http://www.audioactiv.com.
MSRP: VAULT XL $109.99
About AudioActiv
AudioActiv is a young company with a passion for designing and manufacturing great products that make every day more enjoyable. Their journey began when music, the outdoors and a never-ending pursuit of good times came together to form a simple idea. That idea inspired AudioActiv's founders to develop their first product, the original VAULT case. The VAULT case was the first-ever protective enclosure to allow music lovers to experience all of the amazing features of their portable Bluetooth speaker without having to worry about damage from water, dirt, sand, snow or impact. AudioClear acoustic technology was designed to deliver reliable protection and uncompromising sound like nothing available in the market.