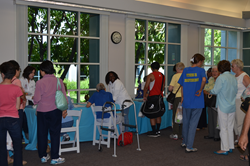 Loma Linda, Calif. (PRWEB) May 21, 2014
The public will get the chance to receive wellness and wholeness checks, body composition analysis, and disease prevention counseling at the second annual Loma Linda University Health Drayson Center Preventive Care Clinic Open House on Thursday, May 29.
The open house, free to the public, is set for 3 p.m. to 6 p.m. at Loma Linda University Drayson Center, 25040 Stewart St., Loma Linda, Calif. 92350.
"We are excited to host our open house for the second year because we have seen at last year's event how interested people are to learn more about things that they can do to improve their health and wholeness," said Dr. Hildemar Dos Santos, assistant professor in the Preventive Care Program at Loma Linda University School of Public Health and director of the Drayson Center Preventive Care Clinic.
"Many chronic illness, such as diabetes, hypertension, cholesterol, and heart disease, may be controlled or managed by making simple lifestyle changes, such as by better managing weight, exercising, controlling stress, and not smoking," he said.
Among the booths and activities planned for the open house include: body composition checks and counseling; blood glucose checks; Full Plate Diet booth; health brochures and posters; blood pressure checks; waist and hip circumference testing booth; hand grip and strength test booth; and a tour of the medicinal herbal garden. Jamba Juice will sell drinks to raise money to support Mission Inside Continents and Islands' (MICI) efforts to help build a school in the West African country of Mali.
For more information, call 909-651-5077.
Photo Caption: The public is invited to the second annual Loma Linda University Health Drayson Center Preventive Care Clinic open house on Thursday, May 29.
###
About Loma Linda University Health (LLUH)
Loma Linda University Health includes Loma Linda University's eight professional schools, Loma Linda University Medical Center's six hospitals and more than 800 faculty physicians located in the Inland Empire of Southern California. Established in 1905, LLUH is a global leader in education, research and clinical care. It offers over 100 academic programs and provides quality health care to 40,000 inpatients and 1.5 million outpatients each year. A Seventh-day Adventist organization, LLUH is a faith-based health system with a mission "to continue the teaching and healing ministry of Jesus Christ."