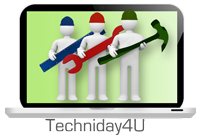 At Techniday4U, Customer is God and we are God's servants. We are tech servants at your service just a call away.
North Royalton, Ohio (PRWEB) May 21, 2014
Techniday4U, a North Royalton based remote computer support company offering affordable remote computer services to customers all over the world, achieved multiple major milestones in the month of May 2014.
Better Business Bureau accredited North Royalton based Techniday4U, a DBA of Kamya Inc with an A+ rating for striving to make good faith efforts to resolve customer issues and at the same time maintaining good business standards.
"We are honored that BBB accredited us with an A+ rating and we would like to strive hard and keep up this faith that BBB as well as our customers have entrusted us with. We would like to promise that we will work hard and try to excel in what we do best" said Srinivas S. Adibhatla, CEO, Techniday4U, a remote computer support company. Here is a link regarding this accreditation:
http://www.bbb.org/cleveland/business-reviews/information-technology-services/techniday4u-in-n-royalton-oh-92012498
BBB accredits businesses based on 16 different factors, ranging from business practices, length of time business has been operating and a number of other factors and Techniday4U team is very hapy to have received this award.
In addition to BBB, Techniday4U has been awarded with an Elite Member badge from Reseller Ratings. "This is a very proud moment to be recognized by Reseller Ratings " said CEO Srinivas S. Adibhatla who further mentioned that Reseller Ratings has very stringent requirements to award merchants with Elite member badge and that Techniday4U team appreciates Reseller Ratings for recognizing our excellence in customer satisfaction.
To learn more about us and our services, visit http://www.techniday4u.us or Call us Tollfree at 1-855-486-4228.
Please check our Facebook page at https://www.facebook.com/techniday4u.
About Techniday4U
Techniday4U offers remote computer support services to customers and small businesses all over the world. We provide technical support over a wide range of computer products like desktops, laptops, notebooks, printers, scanners and other computer related peripherals. Techniday4U specializes in providing Desktop and Laptop Support, Operating System Support, Malware and Virus Removal Support, Printers and Scanners Support, Network and Connectivity Support, Email and Messenger Support, Antivirus support and Software Applications Support.
Techniday4U team can fix majority of the computer software issues either over the phone or over the internet without the customer taking the computer to any computer repair shop physically.
Techniday4U offers a wide range of subscriptions from one-time fix to annual maintenance plans, offering the best solution suitable to our customers' needs. Techniday4U offers the following products along with the subscription as needed for our customer's computer:
1) PC Optimization Software: A 24-utility premium computer/PC optimization tool that keeps the computer running in top shape with its excellent registry cleaner functionality.
2) PC Privacy Protection Software: A military-grade computer privacy protection tool that erases all traces of privacy information securely from the computer.
3) Premium Bundled Software: A premium software that includes antivirus / anti-malware /anti-spyware/ anti-rootkit which completely protects the customer's computer from hackers.
4) Computer Backup Tool: The tool offers to backup certain folders of the customer's computer, thereby allowing them to take an online backup/ cloud backup of their computer.
5) Email Backup Tool: The tool backs up all email accounts and contacts, be it Yahoo, Gmail, AOL or Hotmail, as long as the email providers use POP3 protocol