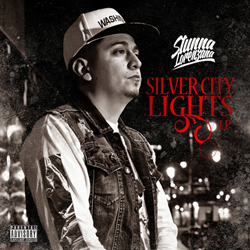 Washington D.C. (PRWEB) May 21, 2014
Coast 2 Coast Mixtapes announce the release of the "Silver City Lights LP" mixtape by Stunna Lorenzana. The 14 track project is currently available for download. The mixtape features appearances from E4rmdacity, Fito Corleone, and Michelle Mchugh as well as production from Joey Sosa, Mig L Beatz, Vybe Beatz, Teddy Beats, Mr. Forbes, and June G.
Stunna Lorenzana is an emcee who was born in Washington, D.C. and grew up in Silver Spring, Maryland. With a profound interest in music, Stunna recognizes the importance of his parents support in pursuing his dream to spread his music across the world. He understands that sacrifice his parents, who are from Guatemala and El Salvador, made to ensure he was born in the land of the free with all the opportunities available to create his own future. Always interested in a variety of musical styles, Stunna found he had a strong passion for Hip Hop music because it allowed for him to share his message and best represented who he is and where he comes from.
Stunna Lorenzana's love for music is apparent in his previously released projects including "Rest in Beats", "Rest in Beats 2", "Rest in Beats 3", "Skys the Limit EP", "Still Haven't Made It Volume 1", and "Still Haven't Made It Volume 2". Artfully selecting his tracks and telling his story through his verses, melodies, and rhythms; Stunna has steadily built a fan base one listen at a time. Taking what he has learned from popular music and adapting it to his own personal style, Stunna explores new sounds and methods of recording while still staying relevant to the average listener. Stunna Lorenzana's fresh beats and provocative rhymes have had Hip Hop fans moving their bodies and waving their hands in the air across the Northeast and quickly spreading across the country.
"Silver City Lights" is Stunna Lorenzana's 7th release, a tribute to the Latino community who embraced and encouraged this young artist to shoot for the stars. Named after his remarkable hometown of Silver Spring, MD; the free full length album features 14 well crafted songs chronicling Stunna's journey to the top. By no means was "Silver City Lights" a lone effort as Stunna's whole Empire Lifestyle family jumped on the project to make it the highly anticipated release. Including features from Fito Corleone, Michelle McHugh and E4RMDACITY as well as production from Joey Sosa, Teddy Beats, Mig L Beatz, Vybe Beatz, Mr. Forbes, June G. and Joey Cutless; "Silver City Lights" expresses Stunna's appreciation for all the individuals who have helped him get to where he is today, crediting his friends, family, and peers for his success. A genuine reflection of his life through music "Silver City Lights" is a passionate and authentic project that is sure to be memorable in this often saturated entertainment industry. Give "Silver City Lights" a full listen and keep up with Stunna Lorenzana on his Twitter page at @StunnaLorenzana.
About Coast 2 Coast Mixtapes
Coast 2 Coast Mixtapes are the most widely distributed mixtapes in the world, with over 100 million downloads/plays generated by over 200 volumes officially hosted by major artists. Coast 2 Coast has a solid reach in the new music industry with a digital magazine, DJ coalition, industry tips blog, yearly convention, and more. Coast 2 Coast Mixtapes represents a unique opportunity for artists of all urban genres, from major to indie. For more information, visit http://www.coast2coastmixtapes.com.