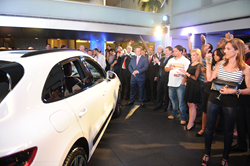 Miami, FL (PRWEB) May 20, 2014
THE COLLECTION, Miami's foremost luxury automotive dealership, announced that the all-new 2015 Porsche Macan has arrived in their Coral Gables showroom. They hosted a fête Thursday night to celebrate this Porsche launch of the decade. Guests discovered pure Porsche performance in an entirely new form and a generous portion of all proceeds were donated to Miami Children's Health Foundation. The Macan has two model variants, the Macan S and the Macan Turbo.
"The Porsche Macan is unlike any other compact SUV," said Ken Gorin, President and CEO of THE COLLECTION. "It is infused with the sporty DNA of Porsche, drawing on elements from Porsche's latest supercar, the 918 Spyder. With five doors and five seats, the Macan has plenty of space for activities. I can't wait to take mine on a road trip to the Keys."
Porsche's fifth model line, the new Macan S and Macan Turbo, are true sports cars in the rapidly growing segment of compact SUVs. The Macan S is powered by a 3.0-liter twin-turbo V6 engine with 340 hp and can accelerate from zero to 60 mph in 5.0 seconds. The 3.6-liter twin-turbo V6 in the Macan Turbo produces 400 hp and makes the car sprint from zero to 60 mph in 4.4 seconds.
For more information about the new models, visit porsche.com or thecollection.com.
Pricing details are as follows:
Macan S $49,900
Macan Turbo $72,300
*Base pricing does not include options, taxes, dealer charges and a destination fee of $995.
ABOUT PORSCHE CARS NORTH AMERICA:
Porsche Cars North America, Inc. (PCNA), based in Atlanta, Ga., is the exclusive U.S. importer of Porsche sports cars, including the Macan and Cayenne SUVs and the Panamera sports sedan. Established in 1984, it is a wholly-owned subsidiary of Porsche AG, which is headquartered in Stuttgart, Germany, and employs approximately 270 people who provide parts, service, marketing and training for 189 dealers. They, in turn, work to provide Porsche customers with a best-in-class experience that is in keeping with the brand's 66-year history and leadership in the advancement of vehicle performance, safety, and efficiency. At the core of this success is Porsche's proud racing heritage that boasts some 30,000 motorsport wins to date.
ABOUT THE COLLECTION:
On the corner of Bird Road and Ponce de Leon Boulevard in Coral Gables stands Florida's definitive luxury automobile destination, THE COLLECTION. President and CEO, Ken Gorin, a 36-year industry veteran in the exotic and luxury automobile business has built a world-class destination housing the globe's most celebrated automotive brands: Audi; Porsche; Ferrari; Maserati; Aston Martin; Jaguar and McLaren. THE COLLECTION's success is credited to outstanding service, exceeding customer expectations and to a staff that treats customers like members of their family. THE COLLECTION's facilities include a state-of-the-art service department, parts facility, and boutique to outfit today's high performance enthusiast. In October 2010, THE COLLECTION proudly inked a deal with three-time NBA Miami HEAT Champion, ten-time NBA All-Star, and Olympic Gold Medalist, Dwyane Wade. As South Florida's hometown hero, Wade helped lead the Miami HEAT to all three NBA championships in the franchise's history, while enriching the community through his Wade's World Foundation. He is now teamed up with THE COLLECTION as the face of the brand. To experience THE COLLECTION, call 305.444.5555, or visit http://www.thecollection.com.
###