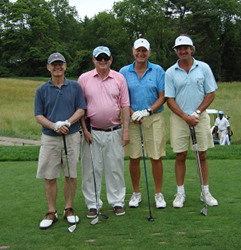 New York, NY (PRWEB) May 22, 2014
The Boys' Club of New York (BCNY), the city's oldest organization focused solely on preparing boys and young men to achieve their full potential, is excited to announce the Eleventh Annual Golf Outing to raise money for BCNY's important youth programming and services.
The Golf Outing will take place on Tuesday, June 17, at the beautiful Meadow Brook Club in Jericho, New York. Tee-time is 12:30pm, preceded by a brunch buffet and practice range at 11am. Following the golf round will be a celebratory dinner, fundraising auction, and awards ceremony.
For those new to golfing, there will be a special Golf Clinic with a Meadow Brook golf pro. Participating golfers will spend the afternoon with a golf-pro working on their short game (chipping and putting) and long game (drivers), and incorporating the stance and grip, the two most important parts of the golf swing.
The event's chairmen are BCNY Trustees Daniel Garcia and Stuart M. Katzoff, with co-chairs Silas R. Anthony, Jr., Sara Ayres, Douglas J. Band, James F. Curtis III, R. Christopher Errico, Elbridge T. Gerry, Jr., Winston W. Hutchins, William G. McKnight III, Alexander T. Robertson, Jeffrey C. Smith, and William B. Tyree. Honorary Chairman is BCNY Board President Edward J. Rappa, and Honorary Committee member is Robert M. Gardiner.
For more information about the event, please visit http://www.bcny.org/GOLF.
About The Boys' Club of New York
The Boys' Club of New York is committed to nurturing, mentoring and guiding boys and young men to prepare them to reach their fullest potential. Throughout its 137-year history of youth development, The Boys' Club of New York has combined a single-minded focus on boys and young men with a unique, multi-disciplinary approach that prepares them for a fulfilling and meaningful adulthood. The Boys' Club of New York accomplishes this through an approach that includes music and arts programs, social and recreational activities, academic support, and athletics.
By introducing boys to new ideas, expanding their interests, developing their real-world skills, providing a safe and nurturing environment, and offering ongoing counseling and mentorship, the Boys' Club of New York helps shape boys and young men into the best men they can be. For more information, please visit http://www.bcny.org.
If you'd like more information about this event, or are interested in participating as a golfer, sponsor, or to make a donation, please contact Megan Santosusso at 347-505-5398 or megan.santosusso(at)bcny(dot)org.