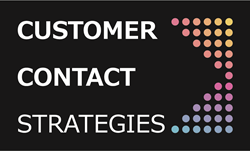 "The best conference I've attended on work at home - packed with meaningful content and great connections."
Dallas, TX (PRWEB) May 23, 2014
Supporting remote workers via virtual platforms requires different leadership skills, and modified business processes. "Employees working across campuses, working from home, and working in the field need to be as connected and as productive as their in-house counterparts," says Michele Rowan, President of Customer Contact Strategies. "There is tremendous innovation underway in virtual sourcing and hiring, virtual training and virtual performance support."
The Remote Working Master Class Series showcases strategies and technologies from a wide range of Fortune 1000 organizations, and brings together thought leaders across a broad industry spectrum for deep dive discussions and benchmarking. Topics such as managing mixed teams (some in house, some in the field or at home), leveraging video and social platforms for virtual performance support, setting expectations and managing time worked, and equipment provisioning are on the agenda.
Advanced Remote Working Strategies sessions are in Chicago (June 24-25), Denver (August 19-20) and Laguna Beach (Nov 12-13).
Virtual Training Design & Delivery Boot Camp is in Chicago June 26. One full day, three guest speakers, for Learning & Development professionals tasked with virtual talent development.
Virtual Sourcing and Hiring Boot Camp is in Denver August 21. For HR leaders responsible for sourcing, assessing, hiring and on-boarding remote employees. Three guest speakers, one full day of high impact content.