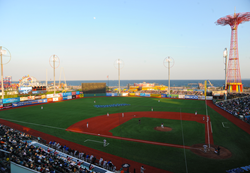 Brooklyn, NY (PRWEB) May 21, 2014
While some people may think that Memorial Day marks the start of summer, the people of Brooklyn know that Cyclones Opening Day is truly when summer gets underway. The 2014 Brooklyn Cyclones season begins on Saturday, June 14 when they take on the cross-bridge rival Staten Island Yankees at 6 p.m. But that's just the beginning of the fun and excitement that is coming to MCU Park this summer.
New for the 2014 season, the Cyclones have introduced a special Family Sunday plan that offers the most affordable entertainment value in New York City. For just $20 a person, you will receive a field box ticket, hot dog, chips, soft drink and a limited-edition t-shirt. The packages are available for groups of two or more, so bring a buddy, or bring the whole family because you won't find a better deal in the five boroughs.
The Cyclones have also renewed the tradition of Jersday Thursday for the 2014 season. At every Thursday home game, the first 3,000 fans in attendance will receive an alternate design Cyclones jersey that is sure to please. Kicking off the series will be a Cyclones Soccer Jersey on World Cup Night, Thursday, June 26. Other designs include the Cyclones Hockey Jersey (July 17), I <3 BKLYN Jersey (July 24), Shamrock Jersey on Irish Heritage Night (July 31), Gil Hodges Replica Jersey (August 14) and the Brooklyn Bridge Jersey (August 21).
After a successful event in 2013, the Cyclones have scheduled another Halloween in July for the 2014 campaign. Saturday, July 26, all fans will be encouraged to show up at the ballpark in costume and enjoy trick-or-treating on the concourse. But that's not all. That night will also be WNET Family Day featuring an appearance by Curious George and the Man in the Yellow Hat.
The team has also scheduled spectacular fireworks shows following every Friday and Saturday night game during the 2014 season. However, this year, the team has added three mid-week shows to the docket so that EVERYONE, no matter their schedule, can find a game to enjoy the jaw-dropping excitement of Coney Island Fireworks.
Tickets for the 2014 season, which start at just $10, are on sale now by calling 718 – 507-TIXX, logging on the BrooklynCyclones.com or in person at the MCU Park box office.
The Brooklyn Cyclones are a short-season Class A affiliate of the New York Mets. The Cyclones play at MCU Park, in the heart of Coney Island. Last year, the team led the New York-Penn League in attendance for the 13th consecutive season and the franchise has welcomed more than 3,500,000 fans to the ballpark since their inception. The Cyclones have also advanced to the postseason nine times, winning a league championship in 2001 and a total of five McNamara Division titles.