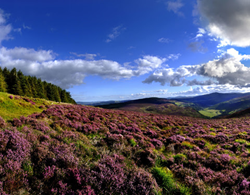 Package Includes Round-Trip Airfare, Accommodations In Four- And Five-Star Hotels, And Rental Car
Rockville Centre, NY (PRWEB) May 27, 2014
Consumers in search of the ultimate travel bargain for a 2014 vacation will not be able to pass up GreatValueVacations' Luxury Ireland Vacation Package priced from $1,199 for 6 nights. This special savings is available for a short time only, for bookings made through June 13, 2014.
This luxurious trip includes incredible 4- and 5-star hotel accommodations in some of the most popular areas as well as some that are a little more off the beaten track for those who want to explore deeper into the countryside.
With a rental car at their disposal for the duration, travelers will have total control over where they go and what they see. The first nights will be at the 5-star Heritage Resort & Spa in County Laois — a gorgeous resort just a short drive from Dublin's city center where they can see several internationally recognized monuments and enjoy the vibrant nightlife.
Next stop is the Cahernane House Hotel in Kerry, an interesting city with a wonderful balance of picturesque countryside and city action. The Ring of Kerry, the Muckross House and Gardens, and the Killarney National Park are all scenic spots to visit while the actual town of Kerry is filled with boutiques, restaurants, and pubs just begging to be experienced.
Travelers will have two nights at the 5-star Glenlo Abbey in Galway. While in Galway, it's time to stroll through the unique town and visit the many art galleries and artisan shops that are sprinkled along the cobblestoned streets. The Kylemore Abbey and the Dunguaire Castle are both breathtaking sights just waiting to be investigated.
Finally, this amazing Irish vacation will conclude in County Wicklow, the "Garden of Ireland" at the Druids Glen Resort. There is a great golf course on-site and the property is surrounded by the spectacular nature of Wicklow for those who enjoy hiking, photography, and communing with nature.
The 6-Night Luxury Ireland Vacation Package includes:

Round-trip economy class airfare to Dublin (DUB)
Manual shift economy size car rental for duration
1 night at the Heritage Resort, Laois (room only)
2 nights at the Cahernane House Hotel or Similar, Kerry (room only)
2 nights at the Glenlo Abbey Hotel or Similar, Galway (room only)
1 night at the Druids Glen Hotel or Similar, Wicklow (room only)
This package is priced from $1,199 from New York, $1,528 from Atlanta, $1,287 from Boston, $1,199 from Charlotte, $1,342 from Chicago, $1,496 from Los Angeles, $1,386 from Orlando, $1,502 from San Francisco, and $1,620 from Washington, DC, based on travel on select dates in October and November 2014. Prices are per person, double occupancy, based on 7-day advance purchase and effective for bookings through June 13th.
Other departure dates and origins are available at slightly higher rates. Prices include round-trip economy class airfare including carrier and government-imposed taxes and fees including the September 11th Security Fee of $2.50 per enplanement originating at a U.S. airport. Fluctuations in exchange rates may affect some taxes or fees.
There is also a $99 upgrade per person (actual $150 value) available for this package which includes:
Breakfast daily
Admission to Cliffs of Moher
House of Waterford Crystal Tour and the Guinness Storehouse
For additional information on all of GreatValueVacations' Luxury Ireland Vacation Package, click here or call 800-896-4600.
About GreatValueVacations
GreatValueVacations is changing the way consumers travel by creating expertly designed, high-quality, air-inclusive vacations to compelling destinations at affordable prices. With so many online resources to find air, hotels, transportation, and more, consumers can spend many hours doing research trying to put it all together. GreatValueVacations takes the guesswork out of planning the perfect vacation by doing all of the legwork and packaging upscale travel products that have been vetted by destination experts. GreatValueVacations also offers advice and recommendations on what to see and do in each locale, and provides customer support every step of the way. Additionally, GreatValueVacations' state-of-the-art technology offers the ability to book complicated vacations in just a few clicks.
For additional information, visit http://www.GreatValueVacations.com or call 800-896-4600.