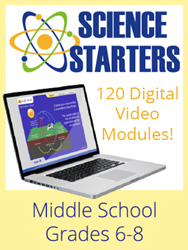 We value the independent review of the our Middle School Science Starters, a very beneficial product for science education in grades 6-8.
Orange, TX (PRWEB) May 22, 2014
Educators and parents can now access an independent review of Scientific Minds' grade 6-8 science product, the Middle School Science Starters. Learning List provides reviews to help its subscribers understand which instructional materials and online courses will work best for their student populations and how to use products most effectively.
Scientific Minds' Founder and President Kathy Reeves states, "We value the independent review of the our Middle School Science Starters, a very beneficial product for science education in grades 6-8. Parents and educators will appreciate the depth of information that Learning List has furnished about our science products as well as the teacher comments and subscriber ratings."
LearningList.com features three types of reviews:
1) A link to the review panel's independent evaluation of the product's alignment to the TEKS and alignment percentage;
2) An editorial review highlighting the key features that distinguish Scientific Minds' science products from other state-adopted and non-adopted products;
3) Subscriber ratings and reviews where educators and parents who have used Middle School Science Starters can share their experience with others.
"We are delighted that Scientific Minds had the confidence to submit their products for our independent review and greatly enjoyed working with them. I know that schools and districts across the country will appreciate the opportunity to learn more about these materials," said Jackie Lain, president and founder of Learning List.
Scientific Minds offers a free 7-day trial for each of its Science Starters products at http://www.ScientificMinds.com.
About Scientific Minds, LLC
Scientific Minds, LLC publishes award-winning online resources for K-12 science education. Founded in 2007 by a veteran science teacher, Scientific Minds, LLC provides tools and processes to enhance science instruction and includes strategies to support all students. The company mission is to develop quality, web-based educational products that inspire, encourage, and promote next-generation skills for student success.
About Learning List
Learning List is a professional resource review service that empowers educators and parents nationally to select the right K-12 instructional materials and online courses for their students. Subscribers may access Learning List's online library of completed reviews, may request that publishers submit additional products to Learning List for review, and may submit open-source instructional materials for review. Tools on LearningList.com make it easy to identify, compare, and select the K-12 instructional materials that meet students' unique needs. The website also helps subscribers document compliance with laws, regulations, and grant requirements governing the selection of instructional materials.