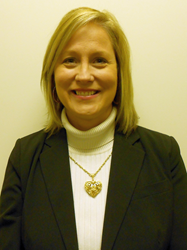 Not rain, sleet, hail or even a hurricane can stop Kim.
Chattanooga, Tennessee (PRWEB) May 23, 2014
An industry veteran for more than twelve years, Kim Peco was recently elected to serve as President of the Chattanooga Chapter of the American Payroll Association (CAPA). CAPA is a professional organization that focuses on advancing the payroll profession by providing development opportunities for its members, as well as representing the payroll professional at the federal, state and local levels.
One of Kim's first duties as CAPA president is to organize a group study program to help members prepare for testing to receive accreditation for the Fundamental Payroll Certification (FPC) and the Certified Payroll Professional (CPP) designation. CAPA is also involved in the local Chattanooga community and supports local charities including Walker County Foster & Adoptive Parent Association, Crohn's & Colitis Foundation, Walker County Partners for Education Progress and American Red Cross to name a few.
Kim's has more than 10 years' experience in payroll, HR and tax filing. As Client Services Manager for Inova Payroll, Kim manages a team of 8 client support specialists to ensure all clients receive personalized, high-tough customer care for their payroll, tax filing and HR solutions. "Kim is a tremendous asset for our client services team," said Sean McDaniel, VP of Operations for Inova Payroll. "Her experience and leadership play a significant role to ensure our Inova Payroll clients receive superior customer care."
Not rain, sleet, hail or even a hurricane can stop Kim. Prior to joining Inova Payroll in 2006, Kim held various positions in tax, HR and payroll processing. In August, 2005, while working at Fleetcor and 7 months pregnant, the company was hit by hurricane Katrina. Kim never missed a beat and worked tirelessly out of different offices, hotels, coffee shops and McDonalds to insure everyone was paid accurately and timely, despite the hardships that displaced their Covington Office for more than a month.
About Inova Payroll
Inova Payroll is the largest Tennessee-based payroll service provider processing payroll and tax filing for clients in all 50 states. Inova Payroll offers a complete line of smart payroll and HR solutions for companies of all sizes. Combining innovative, state-of-the-art technology with our earnest commitment to high-touch customer care, Inova Payroll sets a new standard in customer satisfaction. Our impressive suite of services encompass one-database payroll and HR solutions, nationwide tax filing, integrated time management systems and a growing suite of InovaPlus™ ancillary products. For more information, call (615) 421-0600 or visit http://www.inovapayroll.com.
Offices located in Nashville, Chattanooga, Knoxville in Tennessee, Lancaster, Pennsylvania and Atlanta, Georgia.