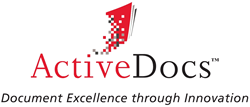 The global implementation of ActiveDocs Opus at Shell's HR service centres replaces a manual process and integrates ActiveDocs Opus with Shell's expatriate employee transfer management system
Kansas City, Kansas (PRWEB) May 22, 2014
ActiveDocs Limited announced today that global energy company Shell has implemented ActiveDocs Opus for dual-mode Automated and User-Driven document generation. The global implementation at Shell's HR service centres replaces a manual process and integrates ActiveDocs Opus with Shell's expatriate employee transfer management system to enable generation of employment contracts and related documents.
Shell awarded the contract to ActiveDocs in April 2011. The two companies have since been developing an integrated solution to address business requirements to support multiple user groups globally for Shell HR.
Glenn Ricketts, ActiveDocs CEO said: "ActiveDocs is pleased to have been selected by Shell to contribute to a significant project to implement controlled and efficient document generation in its HR operations. It has been a pleasure to work with Shell to deploy ActiveDocs Opus in both Automated and User-Driven modes to enable a new system to support business-critical processing with leading-edge document automation. ActiveDocs acknowledges Shell's expertise in their business processes and existing infrastructure and their well-informed understanding of the Template & User Rights Management, multi-mode operation, and integration capabilities of ActiveDocs Opus."
About Shell
Shell is a global group of energy and petrochemicals companies with around 87,000 employees in more than 90 countries and territories. Shell's headquarters are in The Hague, the Netherlands. The parent company of the Shell group is Royal Dutch Shell plc, which is incorporated in England and Wales. In 2013 Shell's revenue was $451 billion, income $26.9 billion, and investment in research and development $1 billion. For more information on the company, please visit http://www.shell.com.
ActiveDocs
ActiveDocs develops Template management and document automation software that reduces the time and expense of creating documents, while mitigating the potential risk caused by inaccurate information. The company's solutions lower the possibility of complaints, legal issues and financial losses caused by manual document creation and help companies personalize standard, repeatable information. ActiveDocs has been in business since 1992, and specializes in state-of-the-art document automation and compliance for large enterprises. ActiveDocs' customer base covers over 160 of the Global Fortune 500, including the world's largest company – Royal Dutch Shell, BP, Bayer Healthcare Pharmaceuticals, ABB and many other global giants. For more information on the company, please visit http://www.activedocs.com/.
ActiveDocs Opus
ActiveDocs Opus™ is a world-leading Document Automation Solution built on Microsoft® Office and Microsoft® Windows Server technology, and supports industry standard integration with data sources and document storage and handling applications. Templates are designed in Microsoft® Word and built from reusable components. ActiveDocs Opus has built-in management and deployment tools to allow Templates to be used for User-Driven (interactive) and Program-Driven (automated) document creation. For more information on the product, please visit http://www.activedocs.com/document-automation-on-premise/.