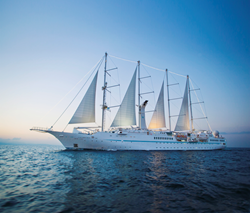 Guests can enjoy exceptional savings of up to 66% on select voyages to Asia, Arabia, Tahiti, Northern Europe, the Mediterranean, and Caribbean.
Seattle, WA (PRWEB) May 21, 2014
Windstar Cruises is featuring a One Week Sale, where guests can enjoy exceptional savings of up to 66% on select voyages to Asia, Arabia, Tahiti, Northern Europe, the Mediterranean, and Caribbean. Going on now, guests who book a voyage before Thursday, May 29th, can cruise for as low as $1,699 in the Caribbean and $1,999 in the Mediterranean. With the lowest prices of the year, now is the perfect time to book a Windstar vacation and experience the stunning beauty and romance of Tahiti, the dramatic vistas of Italy and Greece, or the exotic wonders of Asia.
Every Windstar voyage promises an intimate, yacht style experience, including pampering without pretense, smaller ports of call, and unique private events on shore. Featured voyages include:

Dreams of Tahiti: A 7-day voyage, sailing from the capital city of Papeete, Tahiti and stops at Moorea, Tahaa, Raiatea, Huahine, and Bora Bora. Guests can also dive or snorkel the underwater world and experience even more of the South Pacific magic.
Glitter & Glam of the Rivieras: Sparkling cities and charming villages to secluded harbors and immaculate beaches are all found along the famed Riviera on this 7-day voyage departing from either Barcelona or Rome.
Venetian Passageways: Enjoy the wonders of Venice and Athens on this 9-day voyage that travels along ancient trade routes through the narrow Corinth Canal, to the ancient oracles of Delphi, ad into the stunning fjords of Montenegro.
Singapore & the Malay Peninsula: Featured as one of Fodor's Top Ten New Cruises in 2014. Discover the melting pot of Malaysia and Thailand on this 10-day round trip voyage from Singapore. This voyage visits Penang, Langkawi, Pulau Pangkor, Kuala Lumpur, and Malacca, Malaysia; as well as Phuket, and Ko Yao Noi, Thailand.
To learn more about the featured voyages and take advantage of Windstar's One Week Sale, contact a travel professional, visit the website, or call Windstar Cruises at 800-258-7245.
About Windstar Cruises
Windstar Cruises operates a fleet of small luxury cruise ships known for its intimate yacht style experience and unique voyages to the world's best small ports and hidden harbors. Its three recently renovated sailing yachts carry just 148 to 310 guests and cruise to 50 nations, calling at 150 ports throughout Europe, the South Pacific, the Caribbean, and Central America. In May of 2014, Windstar launched Star Pride, the first of three new power yachts. In May of 2015 the company will launch Star Breeze and Star Legend. The power yachts, with a capacity of 212 guests each, will double the size of Windstar's fleet, making the company the market leader in small ship cruising with 300 or fewer passengers, with a total of 1,242 berths. The additional capacity will open up new itineraries such as voyages to Southeast Asia, Arabia, Iceland, and beyond. Windstar was recently listed on Condé Nast Traveler's prestigious Gold List, coming in as the #3 cruise line in the world.
For more information including rates and itineraries, contact a travel professional or call Windstar at 800-258-7245. Visit Windstar Cruises online at WindstarCruises.com or Blog.WindstarCruises.com. Windstar Cruises can also be followed on Windstar's Facebook and Twitter fan pages. Windstar Cruises is part of Xanterra Parks & Resorts, a diversified global travel and hospitality company.
###