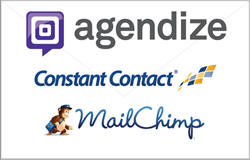 NEW YORK (PRWEB) May 21, 2014
Marketers have consistently invested in email marketing and with good reason. A McKinsey survey shows excellent customer acquisition rates (8%) thanks to emailing. For this reason, Agendize Appointment Scheduling Software integrates with leading providers of online email marketing solutions: MailChimp and Constant Contact.
Online Scheduling allows any business who revolves around appointments to streamline the management of bookings and empower their customers to book the business online themselves - directly from their website, mobile phone, or Facebook page.
In order to allow SMBs to further leverage their appointment booking solution through their emailing activities, Agendize integrates with two major email marketing solutions: MailChimp and Constant Contact.
Simply put, an opt-in functionality can be easily activated with Online Scheduling so that when a customer books an appointment with a business, the customer data can be added to the company's MailChimp or Constant Contact database. This allows SMBs to easily capture and leverage customer data in their emailing campaigns.
Agendize Online Scheduling Software is available on the MailChimp and Constant Contact marketplaces.
For more information on Agendize Online Appointment Scheduling Software please visit:
Appointment Scheduling Software: http://www.agendize.com/features/appointment-scheduling-software
McKinsey survey: http://www.mckinsey.com/insights/marketing_sales/why_marketers_should_keep_sending_you_emails
Agendize is the only one-stop-shop of engagement and conversion tools on the market. By generating meaningful interaction, engagement tools turn online visitors into customers. The Agendize platform includes: Online Scheduling, Click to Call, Live Chat, Form Builder, Save & Share, and Call Tracking - with integrated CRM and Analytics functionalities. Over 100,000 businesses worldwide use Agendize to generate more leads and improve customer service. Agendize tools are distributed as a white-label solution by some of the largest digital players.
Press contacts:
Raphaël ISCAR
Digital Communication manager
riscar(at)agendize(dot)com
+1 514 550 4090
Davy BOUR
Head of Marketing
dbour(at)agendize(dot)com