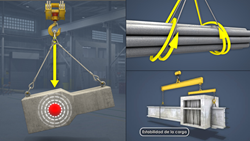 To be selected by ISHN readers and our customers and peers as the winner—that makes this special.
Vancouver, WA (PRWEB) May 22, 2014
Convergence Training, a leading producer of industrial training products and operational efficiency tools, was awarded first place in this year's ISHN Magazine Reader's Choice Awards, which recognize the year's top safety products. Convergence Training's Crane and Hoist Rigging Safety course took the top prize in the award's "Training" category.
The Convergence course will also be featured along with the other ISHN winners at this year's ISHN-ASSE Attendee's Choice Awards. The Attendee's Choice Awards will be voted on at the annual ASSE Safety Conference and Expo, to be held this year from June 8-11 in Orlando, FL. Voting will be open during exposition hours with the winners announced on Tuesday, June 10th.
"It always feels good to win an award," says Randy Kohltfarber, President of Convergence Training. "And to be selected by ISHN readers and our customers and peers as the winner—that makes this special."
Convergence products continue to be well-received as the company's eLearning course catalog and learning management system offerings continue to expand. The award-winning Crane and Hoist Rigging Safety course is a popular product in the company's Equipment Safety catalog, and makes use of detailed 3D models and motion graphics to illustrate concepts such as sling angle and load stability. Convergence offers hundreds of similarly designed computer-based training modules covering topics such as Environmental Health and Safety, Operations & Maintenance, Human Resources and more.
"It's fantastic," says Kohltfarber. "We have a great team here and we're moving quickly and developing some really great training products. We look forward to winning more of these awards in the future."
About Convergence Training
Convergence Training, a division of Capstone Technology Corporation, is a leading producer of eLearning media, training management software, and operational efficiency tools for pulp and paper, general industry, manufacturing, and mining.
For more information on Convergence Training's eLearning content, compliance software, and online training services, please visit ConvergenceTraining.com or call 1.800.619.2280.