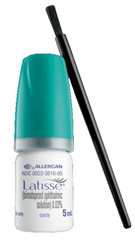 Offering the lowest Latisse prices ever, plus free same-day shipping.
(PRWEB) May 22, 2014
ShopBeautyMojo.com & sister company Latisse.md, together the #1 online provider of Latisse, announce the lowest prices of Latisse in history. This offer, plus free same-day shipping, allows customers to safely grow longer, darker, fuller eyelashes at affordable prices. Customers can avoid spending the time, money, and hassle going to a physician's office or dealing with hidden fees by other online Latisse providers. Customers save even more time from the need to compare prices, as ShopBeautyMojo.com & Latisse.md offer a lowest-Latisse-price online guarantee.
The 5ml Latisse kit lasting 10 weeks is now $113 (MSRP $179) and 3ml Latisse kit lasting 4 weeks is $71 (MSRP $125) for a limited time or while supplies last. To order Latisse, simply visit http://www.ShopBeautyMojo.com or call 888.433.1113.
Latisse is manufactured and backed by the global leader in pharmaceuticals, Allergan, who has awarded ShopBeautyMojo.com & Latisse.md the coveted Black Diamond Tier Four Partnership status for their strict adherence to ethics, high product sales volume, and compliance with distribution policies. As a premier partner, ShopBeautyMojo.com & Latisse.md receive manufacturer discounts, then immediately pass along the savings to their vast customer base.
"I'm overjoyed to be able to thank our customers by offering the lowest Latisse prices ever, plus free same-day shipping, and reachable customer service experts to answer any questions. Thanks to the increased popularity of Latisse, and the enormous community of raving fans, our business continues to grow and we're ecstatic to help individuals look and feel their very best," said Gail Gentile, ShopBeautyMojo.com & Latisse.md Founder and Chief Executive Officer.
ShopBeautyMojo.com & Latisse.md also offer pharmaceutical grade anti-aging skincare and cosmetic products. Brands such as Clarisonic, SkinMedica, Obagi, and EltaMD not only help protect one's Latisse investment by extenuating the eye area, but they reverse the signs of aging with proven results of rejuvenated skin. Exclusive discounts are communicated through their newsletter delivered via email.
For additional savings, ShopBeautyMojo.com & Latisse.md participate in Allergan's Brilliant Distinctions® program, which rewards customers with points to redeem toward instant savings on Allergan products such as Latisse and Skinmedica.
Latisse® (bimatoprost ophthalmic solution) 0.03% is the first and only prescription treatment approved by the FDA for inadequate or sparse eyelashes. Over 5 million Latisse kits/bottles have been sold since 2009. Latisse results in the growth of new lashes, which are thicker, fuller, and darker than your normal lashes. Patients treated with Latisse in the clinical study experienced 106% increase in lash thickness/fullness, 25% increase in lash length, and 18% increase in lash darkness.
For beginners, two 5ml Latisse bottles allows you to reach your full natural lash potential (typically at or before 16 weeks, though results can begin as early as around 6 weeks) and at the best value. Continual use of Latisse is required to maintain longer, fuller, darker lashes.
For more information, visit ShopBeautyMojo.com or call 888.433.1113