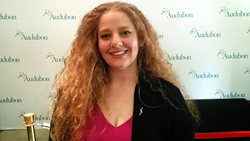 Yogurt should always be made with the best ingredients from the best farms in the area
New York, NY (PRWEB) May 21, 2014
The Audubon society has focused on conservation for more than a century, and on Tuesday, May 20th, the organization is honoring female business leaders whose work for the environment and sustainability meets the organization's exacting standards.
Fout was selected because of her work with Sohha Yogurt, using locally sourced, responsibly produced milk from Hudson Valley Fresh and producing a yogurt product that is pure and wholesome, without any additives.
"There's really no other way yogurt should be produced," said Fout. "It should always be made with the best ingredients from the best farms in the area. That's what makes it so delicious, in addition to being so good for you."
Sohha Yogurt is also known for its incredible taste and already has its share of admirers. The company's signature yogurt was named "Best Yogurt in New York" by New York Magazine in its February issue of this year.
"It's great to also be recognized for the core values of the business," said Fout, who started Sohha Yogurt so she could feed her own daughter a product that met her personal standards of purity and healthiness. "We called the business 'Sohha,'" she said, "which means health."
Fout and her husband and co-owner, John Fout, take pride in producing a "farm-to-container" yogurt, and highlight how the local sourcing affects their product for the better. The two are planning a farm trip over the summer to one of the dairy farms from whom they source.
Sohha operates a stand at Chelsea Market that sells yogurt by the containers, as well as yogurt by the cup served with an assortment of fresh toppings. Sohha Yogurt also sells its wares at farmers market in New York City, Brooklyn and Westchester, in addition to selling in stores in Brooklyn and Manhattan. Sohha is also available online through Good Eggs in Brooklyn.
About Sohha Savory Yogurt
Founded by Angela and John Fout, Sohha Yogurt believes that food should be wholesome, with no added sugar, preservatives, or gelatin. When our daughter Savana turned six-months-old, we couldn't find a yogurt on the market that was pure and wholesome enough to feed her, so we fed her Angela's homemade, small-batch yogurt, using her family's recipe. Today we produce savory yogurt made from only three ingredients: locally sourced premium milk, unprocessed sea salt, and probiotic cultures.