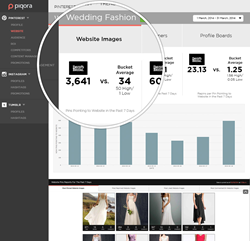 Piqora is one of only a handful of companies selected and invited by Pinterest to participate in the MarTech Developer Alpha program.
San Mateo, CA (PRWEB) May 20, 2014
Piqora, the most comprehensive of visual analytics and marketing providers for visual social networks such as Pinterest, Instagram and Tumblr, today announced its participation in Pinterest's MarTech Developer Alpha with access to Pinterest's Business API. Piqora is one of only a handful of companies selected and invited by Pinterest to participate in this early stage program. Additionally, Piqora launched 'Pinterest Trends', which allows marketers to gather deep industry and category-level insights that benchmarks a brand's performance on Pinterest against the performance of competitors.
Piqora is the only company to offer category, competitive, and group-based trends and benchmarking. Piqora's Pinterest Trends dashboard allows a marketer to create groups of brands across verticals to benchmark virality, community growth, engagement and more. The ability to group brands allows marketers to craft well-informed content strategies and make informed publishing decisions across the visual web.
"Access to Pinterest Business Insights API has turbocharged our innovation. Piqora is already the most comprehensive resource for visual web marketers, allowing us to provide unparalleled analysis and reporting for our customers. Now, with our latest product, 'Pinterest Trends,' visual marketers can easily gain insight into industry and category trends across Pinterest," said Sharad Verma, CEO of Piqora.
In April of this year, Piqora announced it closed a Series A investment of $7.7 million, led by DFJ with participation from Freestyle Capital, Baseline Ventures, Lazerow Ventures, Firebolt Ventures and Altos Ventures, bringing total financing to over $11 million dollars.
At that time, Piqora also announced the launch of its "Instagram Conversation Manager" (ICM). ICM is the only monitoring product available that enables brands to engage their Instagram communities outside of Instagram's mobile app, using a web-based dashboard - and the only to aggregate comments and "@mentions" from multiple Instagram profiles into a single feed, helping brands respond and track conversations without the pain of logging-in and logging-out of accounts.
Since 2013, Piqora has worked with over 400 brands including Crate & Barrel, Steve Madden, Etsy, and Wayfair; tracked ROI and the pin-to-purchase funnel for hundreds of brands, and has run over 600 Pinterest and Instagram photo contests, delivering over half a billion brand impressions. Piqora's image recognition technology analyzes millions of images daily to produce over 50 reporting metrics that help brands get insights into trending pins and products.
About Piqora
Piqora is the leader in marketing and analytics for visual, interest-based networks such as Pinterest, Tumblr and Instagram. Piqora already has hundreds of well-known retailers, brands and publishers using its promotions and analytics engine to easily identify and connect with influential brand advocates, gain actionable insights into trending images, run photo and pin contests, and measure key ROI and engagement metrics to quantify brand engagement across visual networks. Top brands working with Piqora include Crate & Barrel, Etsy, Z Gallerie, Wayfair, and Steve Madden. For more information on Piqora visit http://www.piqora.com.