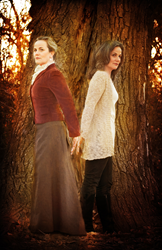 New York, NY (PRWEB) May 21, 2014
The Bark & The Tree, Vivian Nesbitt's award winning, one-woman play about connection and transformation will be back again at the United Solo Festival on October 9, 2014. Tickets are currently on sale. Last Year, the play won best documentary play and best lighting design out of 120 entries at the 2013 United Solo Theatre Festival—earning her an invitation to return.
Nesbitt, an award-winning actor, writer and teacher, has worked in film and television as well as on the stage. Some of her more prominent roles include parts in the new WGN series Manhattan, Breaking Bad, Law & Order: SVU and Longmire.
The Bark & The Tree is set in Ireland, and where Nesbitt traveled to research her great-great grandmother, the nationally renown poet Eva O'Doherty, nicknamed "Eva of the Nation." Bending time and space to understand the legacy of her ancestor, Nesbitt portrays seven different characters that cause her to collide with her own identity and personal challenges. Themes of duality, perception and creative expression fill the play with moments of discovery and surrender, juxtaposed with the comedy of human nature.
In addition to receiving the best documentary award, the play has been highly reviewed. In 2013, The Irish Voice wrote: "Nesbitt shows us how a nation in crisis, and a culture facing into dissolution, can flounder but eventually gather itself up, take stock, express its journey in words to make sense of itself and the road ahead. Nesbitt's story is her ancestors' story, and it's Ireland's story too. In Ireland it is said that we all live in each other's shadow, and the truth is we all live in each other's stories too." (Read more at http://www.irishcentral.com/news/irishvoice/vivian-nesbitts-play-traces-her-ancestors-life-in-the-bark-and-the-tree-233649511-237790121.html#ixzz2srHku3uG).
"It's an honor to be invited back to the United Solo Festival," said Nesbitt. "The Bark & The Tree is a project that is incredibly dear to my heart, and I'm proud to be a third generation actor and woman over 50, still chasing my dream of entertaining, inspiring, and making a difference in the world."
Show information below:
WHAT: The Bark & The Tree encore performance
WHO: Vivian Nesbitt—writer, producer, performer; Lee Kitts—director
WHERE: 2014 United Solo Festival, Theatre Row, 410 W. 42nd St.
WHEN: October 9, 2014
COST: $18, available at the box office or through Telecharge.com (212-239-6200 or 800-447-7400)
About Vivian Nesbitt: Vivian Nesbitt is a third generation actor with theater credits that include George Street Play House (NJ), The Pittsburgh Public (PA) and Roundabout Theatre (NYC) where her first professional job out of grad school was understudy to Mary Steenburgen's Candida and Ann Dowd's Miss Proserpine. The Bark & The Tree, her debut work as a playwright and solo performer was honored with two awards at United Solo 2013, for Best Documentary Play and Best Lighting Design for Karen Perlow. A member of the SAG/AFTRA, Vivian has been a guest on Manhattan (directed by Chris Misiano, playing opposite John Benjamin Hickey) Breaking Bad (opposite Emmy Award winners Bryan Cranston and Anna Gunn), Longmire, Law & Order: Special Victims Unit, Wild Fire, and In Plain Sight. She appears in the recently released films Things People Do, with Wes Bentley and Banshee Chapter with Katia Winter (Sleepy Hollow) directed by Blair Erickson and produced by Sunchaser Entertainment and Before The Door Productions.
Born in Washington, D.C., June 10, 1958, Vivian holds a Master of Fine Arts in Acting from the University of Wisconsin - Milwaukee. Much of her early influences as an actor and writer came from her studies at The American Conservatory Theater. Vivian owns Sol Acting Academy where she teaches. Sol Acting Academy serves over 400 students a year, ranging in age from 3 - 93. She is also co-executive director and host of the nationally syndicated public radio program Art of the Song Creativity Radio with her husband, John Dillon. She lives in the mountains of New Mexico near Albuquerque.
###