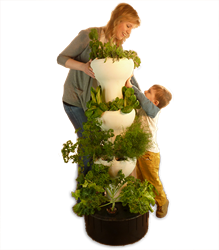 It's opened my eyes to what is now possible.
Wenatchee, WA (PRWEB) May 22, 2014
Feed Our Planet LLC (http://www.feedourplanet.com/) is introducing a truly innovative vertical gardening tower called the Foody that produces fresh herbs and vegetables regardless of weather or time of year.
Each stackable growing pod has 8 planting pockets, may be rotated easily, does not need weeding, and requires very little bending over.
These vertical towers allow plants to be grown in traditional soil or completely without soil…hydroponically. The hydroponic towers come complete with a submersible pump that goes in the base reservoir, tubing, emitter, and timer.
Examples of what may be grown, video clips, and an online store may be found on our website.
It truly is a personal food farm and was actually invented by a farmer. Not effected by drought, it uses only 10% of the water normally needed in field production. It's an attractive, productive, and affordable way to always be growing healthy food.
See a Foody at: http://youtu.be/wGVNPki-KKY
Those interested in learning more about these vertical gardening towers should definitely take a look at http://www.feedourplanet.com/, http://www.facebook.com/foodygrowingtower, or email the company at: info(at)feedourplant(dot)com. Their toll free phone is: 855.983.6639.