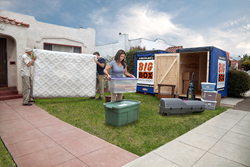 San Diego, CA (PRWEB) May 21, 2014
Big Box Storage Inc., a San Diego portable storage company, is offering one month of free storage to any individuals or families that have been forced to relocate as a result of the recent San Diego wildfires. In addition to the waived storage rents, the company will also provide the delivery and pickup of a "Big Box" storage unit to and from the customer's address anywhere in San Diego County at no charge. Upon delivery, the customer can load the Big Box and, once finished packing, have it picked up for accessible storing within the company's secure, local facilities. Re-delivery of the unit is then readily available once the customer reaches the point when the storage space is no longer needed.
Each Big Box can generally hold the equivalent of up to one and a half rooms of furniture. The exterior dimensions of each one measure 8' long by 5' wide and 7' tall. For those with additional items to store, multiple Big Boxes can be delivered to the customer's address.
With over 25,000 acres burned, the majority of the fires, including the Cocos, Pulgas, Bernardo, Santee, San Mateo, Poinsettia, and Tomahawk fires, have been either completely contained or are well under control thanks to the extensive efforts of local fire fighters and first responders.
"The fires have obviously had a serious impact on the entire San Diego community, but, for those families that have been forced to relocate, the impact is going to be felt long after the fires have been extinguished," stated Rita Hurley of Big Box Storage Inc. in San Diego, CA. "We hope the gesture of providing these storage services will provide some help to those in need."
Individuals and families seeking more information about the free storage program are encouraged to contact Big Box Storage at 800-391-4890 or in person at 7077 Consolidated Way, San Diego, CA 92121.