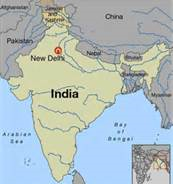 Donate a map set program has touched the hearts and souls of rural teachers in India. It is the best gift one can give to their school in India
Orlando, FL (PRWEB) May 21, 2014
India Network Foundation, sponsor of award winning visitor health insurance plans for families visiting the United States, today initiated a special project to help elementary and secondary education in India. India Network Foundation distributed thousands of map sets to schools in 1994 and 2004 with the help of Asian Indian community and others in the United States. Due to various geographical changes and the limited longevity of these wall mountable laminated maps, the foundation once again launched this project to update schools with latest maps.
Donating a map set to school of your choice is made simple by an online map set donation form. If you do not have a particular school in mind, the Foundation is happy to choose a needy school to receive your donation. An acknowledgement from the school will be directly sent to the donor in appreciation of their donation. All contributions to the India Network Foundation project are tax-deductible in the United States.
Dr. KV Rao, President of India Network Foundation, said that it gives him immense satisfaction to know that the Foundation could help equip these much neglected elementary government schools with the brand new updated maps in their local language. It is a small gift to a school of ones own village in India and many times, teachers were proud of their own students sending a small gift through Foundation.
India Network Foundation also sponsors various unique programs to help researchers from India to present their world class research in major national and international conferences. The travel grant program has been helping many aspiring researchers to bring their research to the US. The India Network Health Insurance Program has been helping visitors to the United States for more than two decades. The visitor health insurance coverage offered through the program is unique and not replicated anywhere else in the world, for people with medical conditions.
About India Network Foundation
India Network Foundation, established as a US non-profit organization, has been helping the Asian Indian community in North America with programs and grants to academics from India for more than two decades. India Network Foundation sponsors visitor health insurance to tourists, students, temporary workers (H1 visa holders) and their families.
For more information, visit http://www.indnet.org.
About India Network Health Insurance
India Network Services is a US based company that administers visitor health insurance to transition residents, tourists, students, temporary workers and their families. Visitor medical plans are offered for all age groups (0 - 99 years old) with accident only coverage, fixed coverage, comprehensive coverage and with preexisting condition coverage. India Network Services also offer scheduled benefit plans for US Citizens and Green Card holders under the age of 65 from various domestic companies.
For more information, visit http://www.kvrao.org.