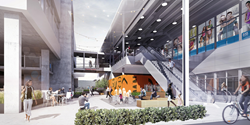 Ross Dress for Less is the largest off-price apparel and home fashion chain in the United States.
Seattle, Washington (PRWEB) May 22, 2014
Principal Real Estate Investors is pleased to announce that a new Ross Dress for Less® will open at Ballard Blocks, the 131,000 square foot urban retail project at NW Ballard Way and 15th Avenue NW. The project is anchored by one of the region's busiest Trader Joe's and a 50,658 square foot LA Fitness Signature Sports Club. Ross Dress for Less will become the project's third anchor when it opens next year in approximately 35,000 square feet on the project's second level. Ballard Blocks is owned by three investment entities with Principal Real Estate Investors of Des Moines, Iowa, serving as the investment advisor for the ownership groups. KG Investment Management manages Ballard Blocks on behalf of Principal. Principal Real Estate Investors and Real Retail, Inc. handle the leasing for the property.
"We think the addition of Ross Dress for Less to the Ballard Blocks merchandise mix will become a welcome destination for the Ballard, Fremont, Magnolia and Queen Anne communities," said John Speirs, Senior Vice President, KG Investment Management.
Ross Dress for Less is the largest off-price apparel and home fashion chain in the United States with over 1,100 locations. Ross offers first-quality, in-season, name brand and designer apparel, accessories, footwear and home fashions for the entire family at everyday savings of 20 to 60 percent off department and specialty store regular prices.
Ballard Blocks is a LEED Silver Certified urban mixed-use retail and office project located adjacent to the Ballard Bridge off-ramp and NW Ballard Way where more than 70,000 cars pass daily. The project has 525 parking stalls on site with an additional 50 spaces on the street and excellent access to the community's major arterial streets. Current tenants include LA Fitness, Trader Joe's, Seattle Suntan, Gymboree, Sharkey's Cuts for Kids, United Studios of Self Defense, UPS, Ballard Bridge Café, Top Pot Doughnuts, Ballard Labs and Kitterman Marketing Group, Inc.
Ballard Blocks is currently undergoing a program of enhancements that, in addition to new merchants and cafes, will also include a water feature, canopy lighting, hand-fabricated furnishings for an urban living room and lush, seasonal landscaping. The enhancements were developed by Hewitt Seattle in collaboration with LMN Architects. Marian Built designed and is building the hand-crafted furnishings. Lighting design is by Luma with Turnstone Construction providing the water feature; Studio SC, the environmental graphics; and structural engineering services from Bykonen Carter Quinn.
With the announcement of the Ross deal, the 131,000 square foot Ballard Blocks is now 93 percent leased with approximately 10,000 square feet remaining at street level for restaurant and retail uses.
ABOUT PRINCIPAL REAL ESTATE INVESTORS
Principal Real Estate Investors manages or sub-advises $50.5 billion in commercial real estate assets as of March 31, 2014. The firm's real estate capabilities include both public and private equity and debt investment alternatives. Principal Real Estate Investors is the dedicated real estate group of Principal Global Investors, a diversified asset management organization and a member of the Principal Financial Group®.
ABOUT KG INVESTMENT MANAGEMENT
KG Investment Management, founded in 2001, offers clients the highest level of personalized service in the areas of property acquisition, development, value-added investment property management, and property disposition in the Pacific Northwest. Particular attention is placed on the economic, geographic, political and regulatory fundamentals of the Pacific Northwest, which gives KG Investment Management's clients a distinct edge in meeting their real estate investment objectives within the region. KG currently manages approximately 11 million square feet in the Pacific Northwest.
ABOUT REAL RETAIL, INC.
Real Retail Inc. is a Seattle-based commercial real estate leasing agency dedicated to delivering a variety of tenant, landlord, advisory and auxiliary services to clients from project feasibility to merchandise planning/tenant mix to market research and analysis, site selection, lease negotiation, and acquisition services. Real Retail is responsible for leasing more than 500,000 square feet of retail, restaurant and entertainment space over the past several years.
-30-