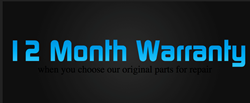 Long Island, New York (PRWEB) May 22, 2014
iPhone Repair Long Island, the premier provider or iPhone, iPad, iPod and laptop repair services to the Long Island community, is proud to announce their new 12 month warranty for all repairs where the client opts for an original part to be used in the repair of iPhones, iPads and Blackberry smartphones.
After opening their doors in 2011, the team at iPhone Repair Long Island has built up a reputation as the go-to service & repair shop for owners of iPhones, iPods, iPads, laptops and other mobile devices. While they offer a standard 90-day warranty on all work they do, they wanted to offer a better warranty for those clients who choose to go with original parts from the original equipment manufacturer (OEM). They felt that the added expense deserved a greater commitment to guaranteeing the work that is done.
"When people come into to get their devices like laptops fixed, they will choose to use non-OEM parts as they can get costly and since they are easily replace they choose the less expensive but just as reliable non-OEM parts," said one of the iPhone Repair Long Island team members. "For the owners of iPhones, iPads and Blackberry smartphones, these devices are often their go-to device for all of their connectivity and web-browsing needs so they go with OEM parts for the greatest level of confidence in the device's day to day operation."
This 12-month warranty is just another example of how the iPhone Repair Long Island team is setting themselves apart from their competition. One thing that the team does know that is a big selling point for them with potential customers is that they can get their mobile device or laptop fixed while they wait. Many times when a device needs to be repaired the only option is to leave the device for 48-72 hours if it is a local shop or ship it out for anywhere from two to three weeks. For people who rely on their devices for communications, schedule keeping and connectivity, these are not attractive options. For iPhone Repair Long Island, it is another way that they seek to provide their customers with the best overall experience while getting their devices back to optimal operating conditions.
iPhone Repair Long Island is a provider of repair services to the Nassau and Suffolk owners of iPhones, iPods, iPads, laptops and other mobile devices. They have performed over 6,000 iPhone repairs and 1,000 iPad repairs at their Syosset, NY location where clients can walk in without an appointment. They can be found online at http://iphonerepairlongisland.com/laptop-repair or can be reached by phone at 516-364-0002.