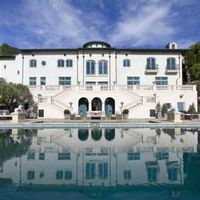 TopTenRealEstateDeals delivers the latest scoop on today's hot real estate news
Pompano Beach, FL (PRWEB) May 22, 2014
Robin Williams, Juilliard-trained actor and comedian, clearly has had it all. From his first guest appearance as Mork in "Happy Days" to his new films, "Secret of the Tomb" and "Dr. Jekyll and Mr. Hyde," to be released later this year, and with a "Mrs. Doubtfire" sequel announced for 2015, Robin is one of America's busiest celebrities. Is it any wonder that Williams never has time to spend at his stunning California vineyard estate?
Villa Sorriso, located in the Mayacama Mountains and straddling the Napa and Sonoma Valleys, sits among 23 acres of vineyards and olive groves. Views over the valley are classic Napa and the land is blessed with a natural pond, groomed and landscaped grounds, all expertly maintained by an on-site estate manager. A productive estate, there are over 100 olive trees which can produce 30-50 gallons of oil per year, and approximately 18 acres of vineyards producing Cabernet Sauvignon, Merlot and Cabernet Franc wines.
Within the 20,000 square feet of living space in Robin's villa, there are five bedrooms, six full baths, five half baths, library, theater, elevator, climate-controlled cellars for art and wine, bridge gallery and viewing tower overlooking the valley. Also featured are three safe rooms and smart house technology. Antique European stone terraces surround pools and sculpture gardens. The 65-foot infinity pool overlooks valley views, lawns and lush landscaping. Roads access 53 acres and the remaining acreage can be enjoyed by horseback. The property adjoins the thousands of acres of Sugarloaf State Park.
Robin Williams' Tuscan-inspired home and winery, previously priced at $35 million, is now offered at $29.9 million. The listing agent is Joyce Rey of Joyce Rey Real Estate in Beverly Hills.
"George Washington's Cousin's Farm"
Sixty minutes west of Washington, D.C. puts one right in the middle of Virginia's famed horse country. Celebrities, high-ranking politicians and old-guard families gravitate to the verdant rolling hills, deep forests and mountain views of the upper Shenandoah Valley down to Charlottesville. This is where the Colonial tradition of fox hunting still reigns as the primary social sport and most any Saturday afternoon there's a steeple chase to attend. The entire area is blessed with picturesque villages, fine restaurants and country inns to explore. Steeped in history, the town of Manassas was the site of two major Civil War battles on the banks of Bull Run, and throughout the area. Colonel John Singleton Mosby, the famous Confederate raider, is well-remembered for making the neighborhood miserable for the Civil War Yankees.
George Washington's first cousin, Warner Washington, purchased over a thousand acres from Lord Fairfax, just north of Berryville, Virginia in 1764. George knew the area well since he worked as a surveyor on the Fairfax land. He visited Warner many times, making the ride from Mount Vernon after Warner had built his mansion, Fairfield. Today, it is known as Clifton Farm, located on more than 400 acres of the original Fairfield estate. The farm along with livestock management buildings, main mansion and guest homes will be going to auction on June 3rd.
With presidential connections and strong historical background, the highest bidder will be only the fourth owner in the history of the estate. Started in 1795 and completed in 1834, the house has been totally restored by its current owners, maintaining its original Colonial charm, including the original heart pine floors and upgrading the features expected today. Built in the Palladian Classical Revival Style with a four-over-four floor plan, the rooms and central halls are large and airy with tall windows and twelve-and-a-half-foot ceilings. There are five bedrooms and baths, formal rooms, a library and seven fireplaces. The guest house, named Little Clifton Manor, was built of stone in 1844 and has three bedrooms and a library. The original stone summer kitchen and round ice house have been restored and were there when George Washington strolled the property. Farm operation facilities are complete and efficient for both a cattle operation and for horses.
Warner Washington's Virginia Clifton Farm is going to auction on June 3rd. Hall and Hall Company is handling the auction.
Real estate is never boring at TopTenRealEstateDeals.com.