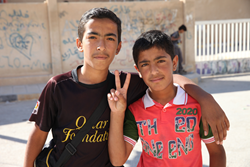 "Without hope, Syrian adolescents are becoming more vulnerable to extremist ideology and recruitment."
Washington, DC (PRWEB) May 21, 2014
The United States and international community must expedite shifting their response to the protracted Syrian crisis toward long-term strategies instead of short-term fixes, according to global humanitarian organization Mercy Corps. In testimony to the U.S. House Foreign Affairs Subcommittee on the Middle East and North Africa, Mercy Corps called on Congress to fund more integrated relief and development programs in Syria's neighboring countries, while also urging unfettered humanitarian access inside Syria.
For nearly two years, Mercy Corps has been delivering humanitarian aid inside Syria, reaching more than 1.7 million civilians, as well as almost 700,000 refugees and host communities in Jordan, Lebanon and Iraq. Mercy Corps is among the largest providers of food and baking flour inside Syria.
"The needs inside Syria are staggering, and the security environment is among the most precarious we've ever faced," says Andrea Koppel, vice president of global engagement and policy at Mercy Corps. "More must be done to ensure humanitarian aid reaches the most vulnerable as required by UN resolution 2139."
In neighboring countries, Mercy Corps also warns of the urgency of meeting the needs of adolescent refugees and those in host communities.
"Our research shows that after years of being out of school and unable to work legally in host countries, Syrian adolescents are losing hope," says Koppel. "As a result, they are becoming more vulnerable to extremist ideology and recruitment. We must change this trajectory."
To be effective, Congress must:

Restore humanitarian funding to FY14 enacted levels;
Demand full implementation of UN Security Council Resolution 2139, ensuring safe, unhindered humanitarian access inside Syria;
Integrate humanitarian relief and long-term development, with a special focus on adolescents and conflict mitigation;
Maintain the separation between humanitarian aid and politics.
"Through our extensive work and partnership in the region, we are humbled by the grace and dignity of Syrians and their regional hosts," says Koppel. "With no end in sight, we need to invest in efficient longer-term development programming."
Read Koppel's full written testimony.
About Mercy Corps
Mercy Corps is a leading global humanitarian agency saving and improving lives in the world's toughest places.