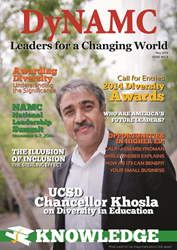 With over 200,000 readers in three countries, DyNAMC aims to connect our readers with each other and to those organizations and corporations that actively embrace diversity.
(PRWEB) May 22, 2014
DyNAMC Leaders for a Changing World is a nationally distributed digital and print resource magazine dedicated to providing entrepreneurs and small to large businesses with information and reporting to include how-to guides, news, tips and advice on how to start, manage and grow a business.
DyNAMC is published quarterly and includes feature articles and specific columns that help businesses rethink re-envision and recreate their business practices; Advocacy offers support and guidance for readers as they work to lead advocacy efforts for their programs; Key Concepts provides innovative concepts in education and instruction; and Viewpoints offers a forum for sharing ideas and best practices.
DyNAMC also provides a range of articles on finance, technology, sales and marketing and HR, to legal, along with inspiring stories from successful entrepreneurs who have seen it all.
Other columns address leadership, current research, trends and issues, professional development, and matters related to diversity, inclusion and equality.
May 2014 issue features:

The Illusion of Inclusion, The Sterling Effect
What Entrepreneurs Need to Know About Opportunities in Higher Education
The SCORE Program - Helping Small Businesses for 50 Years
At A Glance , Who Are America's Future Leaders
Awarding Diversity, Understanding the Significance
Inequalities in the Educational System, the Perspective of Today's Youth
Who Knew?, Small Diverse Business is Smart Business