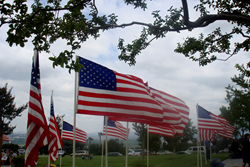 Whittier, CA (PRWEB) May 22, 2014
Rose Hills to feature Former U.S. Secretary of Labor Hilda Solis as keynote speaker of its 94th annual Memorial Day Observance on Monday, May 26, 2014 from 11:00 a.m. – noon at The Gardens, inside Gate One.
Candidate for Los Angeles County's 1st Supervisorial District Hilda Solis co-authored the Green Jobs Act, which provides funding for "green" collar job training for veterans. In 2009, Solis became the first Latina to serve in the U.S. Cabinet and for eight years prior to that she represented the 32nd Congressional District in California.
One of the longest running Memorial Day Observance events in the state, this annual family-friendly event features a military flyover, musical performances, honor guard and rifle team performances, a memorial wreath-laying ceremony and a POW/MIA remembrance.
Leading up to the event, on Friday, May 23, the Mountain View Girl Scouts and Boy Scout Troop 919 will be decorating veterans' graves with U.S. flags inside Gates 8, 9 and 10 of Rose Hills Memorial Park while on Saturday, May 24, the American Legion will be placing flags on the veteran's graves inside Gate 11.
Rose Hills has organized and hosted this free Memorial Day Observance for the community since 1920.
About Rose Hills
Rose Hills, the world's largest and most beautiful memorial park, features premium property, modern funeral home, and architecturally stunning chapels. Located in Whittier, CA, and encompassing more than 1,400 acres, it was founded 1914. For more information, contact Antoinette Lou at (562) 205-4656.
###
Online:
visit us: http://www.rosehills.com
follow us: http://www.twitter.com/rosehillsevents
watch us: http://www.youtube.com/RoseHillsMP