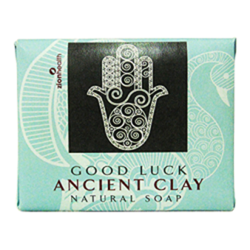 Las Vegas, NV (PRWEB) May 23, 2014
Zion Health is proud to announce Herbally Grounded, located on 4441 W. Charleston Blvd in Las Vegas, NV, now carries Zion's Good Luck organic clay soap for sensitive skin made with high-grade, nutrient-rich Calcium Montmorillonite clay. These natural soaps are uniquely formulated with detoxifying clay, healing essential oils and skin softening coconut oils for effective, gentle cleansing. Ancient Clay Soaps may now be purchased at Herbally Grounded in Nevada and at local health food stores in the U.S. and Canada.
Adorned with the hamsa, an ancient symbol of luck and fertility, this coconut-scented soap is reminiscent of a tropical oasis. The symbol, which has been used across many cultures and religions, is named for the Arabic word for "five" as many Muslims believe the five fingers of the hand represent the Five Pillars of Islam, the five senses and the five daily prayers.
Herbally Grounded is a family-owned business since 2004. They specialize in natural products as well as classes and home-made herbal formulas. Adding to their natural body care product selection, Herbally Grounded will now carry Zion Health's organic clay soap.
Bentonite clays like Calcium Montmorillonite have long been used to detoxify and cleanse skin naturally by indigenous cultures worldwide. According to the research of Wendell Hoffman, (http://www.aboutclay.com/info/Articles/clay_baths.htm) author of "Using Energy to Heal," bentonite clay used in a bath can draw out toxic chemicals through the pores of the skin. The clay has a negative charge that binds positively charged toxins, viruses and bacteria to remove them from the body. Ancient Clay organic clay soaps are also nourishing, as calcium bentonite clays provide more than 60 trace minerals.
Zion Health's Good Luck soap is now available at Herbally Grounded at 4441 W. Charleston Blvd in Las Vegas, NV and at health food markets and co-ops throughout the United States and Canada. Zion provides its consumers with pure skin and body care products that are vegan, free of parabens, and aluminum and formulated using certified organic ingredients whenever possible. For more information on Zion Health products, go to: http://www.zionhealth.com.
###
House of Health: http://www.wellness.com/dir/2664523/dietician-nutritionist/house-of-health/greensboro/nc#referrer