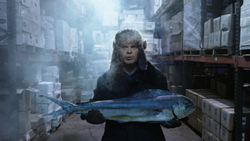 Honolulu, HI (PRWEB) May 21, 2014
HEMIC walked away with the gold at this year's District 13 Regional ADDY Competition, Hawaii's chapter of the national advertising awards show, which is also called the Pele Awards in the Islands. The honors included a coveted Best of Show Award for HEMIC's thirty-second TV commercial called "Seafood."
"You might not think insurance is all that interesting a category, but our advertising agency partner Anthology proved the contrary," said HEMIC CEO Marty Welch.
In addition, HEMIC won four gold Pele Awards for the seafood ad, cinematography for the seafood ad, the TV campaign in which the seafood ad ran, as well as a HEMIC radio ad titled "Caterers." HEMIC was also awarded a silver Pele for a second radio ad called "Big Sale."
"In addition to the ADDY awards, the HEMIC campaign is also in consideration for multiple national awards," commented Anthology CEO Dennis Christianson. "It's rare to have the opportunity to do such breakthrough work in this business category, and HEMIC is getting noticed because of their boldness."
The commercials can be viewed on HEMIC's new website at http://www.hemic.com/about/media-library/.
About HEMIC
HEMIC (Hawaii Employers' Mutual Insurance Company) is the State of Hawaii's largest workers' compensation insurer, reporting annual revenue of nearly $50 million, and serving policyholders on all major Hawaiian Islands with a staff of over 70 employees. An A.M. Best A-rated company, HEMIC has returned over $20 million in dividends to its policyholders as the company continues to expand its ability to serve the community with innovative products and services through its subsidiary, HIMI. HEMIC.com
About Anthology
Anthology's advertising group provides regional stewardship for global brands and builds regional brands to better reach customers in Hawaii and beyond. The advertising team recognizes their job is more than creating award-winning ads; it is to provide business solutions that can transform a business. Anthologymarketing.com