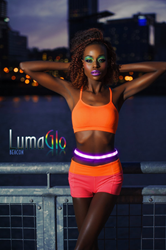 It's the first product to integrate safety with wearable technology.
Portland, Oregon (PRWEB) May 21, 2014
LumaGlo today announced the Kickstarter launch of their newest product--the BEACON—a Bluetooth controlled, smart, LED system that integrates wearable technology with safety. The wireless link to custom iOS and Android applications gives the user full control of the lights while also offering groundbreaking features including an accelerometer-based brake light, visual notifications, millions of colors, dynamic patterns, intense visibility and much more.
"Every two minutes a pedestrian or cyclist is killed--and the main cause is lack of visibility," explained Jill Saucedo, co-founder of LumaGlo. "Traditional bike lights and reflective clothing can't be seen from angles and are easily overpowered by street lamps and headlights. We've designed the BEACON to provide clear visibility from all angles, while also giving the user the ability to set patterns and colors best suited to their situation."
The wearable brake light is one of many integrated features that will help to save lives. "The built-in accelerometer can sense when a cyclist is slowing down and will flash red like a brake light," explains Cofounder Randy Lathrop. "The previous pattern is restored when speeds increase."
Full customization and control is what sets the LumaGlo Beacon apart from other developments. From the custom iOS and Android apps, users can choose from millions of colors and numerous animated patterns. They can also set visual notifications—the lights will change colors or flash when an email or text comes in. "The wireless connection to a smartphone enables a degree of flexibility that simply wouldn't be possible otherwise," said Ward Ramsdell, company co-founder.
This product was developed to fill a need—safety, but LumaGlo took it further by integrating emerging technology to allow for self expression. "The result of our collaboration," explains co-founding partner Russ Lathrop, "is that children can be seen at every crosswalk, runners are noticed from blocks away, commuters spot cyclists before they enter the crosswalk, and of course anyone can light up the night any way they like."
LumaGlo is a small start-up consumer electronics company located near Portland Oregon. This innovative product is available NOW on Kickstarter. For more information contact Jill Saucedo at Jill(at)LumaGlo(dot)com.