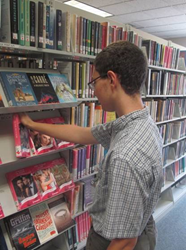 SEP participants are exposed to local businesses and receive real examples of how companies work with communities to incorporate the things they value. Debra Moncrief, SRCAA Education Coordinator.
Salisbury, North Carolina (PRWEB) June 02, 2014
SRCAA administers a Summer Enrichment Program, (SEP) which is designed to give youth practical work experience along with continued skills development in areas such as; leadership development, team building, financial literacy, empowerment and working fundamentals. SEP participants are also given the opportunity to receive training in preparation for obtaining their GED. SEP is funded by the Centralina Workforce Development Board.
In 2013, twenty two youth participated in the program and worked at eighteen different job sites. Some of the positions held by SEP participants included; Customer Service, Camp Counselor, Office Assistant, Teacher Assistant, Library Assistant, Inventory and Marketing Associate and Construction Assistant. Local employers that participated in the 2013 program included; Goodwill, Habitat Restore, Music N More, Rowan Helping Ministries, City of Salisbury, Rowan County Library, Partners in Learning and Bella Vita Salon.
SRCAA's youth program is available in both Rowan and Cabarrus counties. Along with the Summer Enrichment Program, SRCAA offers a year round program for out of school youth. The program is designed to fill the gaps in the lives of youth who lack the family, educational or social skill to meet their essential needs. The key program elements include: tutoring, alternative secondary school options, summer employment linked to academic and occupational learning, paid and unpaid work experience, occupational skill training, leadership development, support services, adult mentoring, comprehensive guidance and counseling, and follow up activities.
"SRCAA's youth development program is designed to assist disadvantaged youth by providing educational support, work readiness and personal development training. We connect youth with businesses through paid and unpaid work experiences and follow up with life skills workshops and leadership opportunities. Other program support includes adult mentors that provide guidance and counseling to youth facing the sometimes difficult transition from adolescence to adulthood," said Stan Wilson, Executive Director at SRCAA.
SRCAA is now accepting applications. To learn more about the program and eligibility requirements call SRCAA at (704) 633-6633. Businesses interested in hiring youth, becoming a training site and/or serving on the business advisory committee should contact Stan Wilson at (704) 216-2182.
About Salisbury-Rowan Community Action Agency:
Founded in 1964, Salisbury-Rowan Community Action Agency (SRCAA) is a regional North Carolina nonprofit organization established for the purpose of empowering low-income families and serving as a key to addressing poverty. Headquartered in Salisbury, NC, the agency has approximately 300 employees and serves Cabarrus, Davidson, Montgomery, Moore, Rowan and Stanly counties. Its mission is to provide services for individuals, children and families to enhance their quality of life and promote opportunities for self-sufficiency. The agency has established a vision whereby everyone has an opportunity for success in life. SRCAA is guided by principles that include; accountability, integrity, advocacy, collaboration and transparency. Key programs and services include; early childhood education (Head Start), family self-sufficiency, career education and training services for youth and weatherization services to make homes energy efficient.