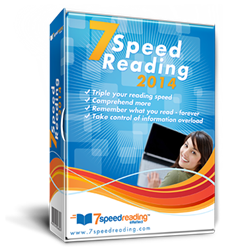 Reading helps children nurture their critical thinking abilities; reading fuels their imagination, and develops their empathy and thoughtfulness towards other people.
New York City, NY (PRWEB) May 22, 2014
Technology is omnipresent, and it's no longer adults and teens that are immersed in the digital world. Today even 3- and 4-year-olds are allowed to play with mum's smartphone and dad's tablet. In an article released today by eReflect, developer of 7 Speed Reading™ software, the team behind the software discusses the difference between reading books and skimming through internet sites, and how each affects children. As the article points out, it's more likely that children will pick up a smartphone or tablet to entertain themselves these days, rather than becoming absorbed in a good book. Many children only read books because they have been assigned as homework at school, and other children lose interest after the first few pages of a book and go back to video games.
For a child who has never learned to enjoy reading, the internet has millions of picture-filled sites that make it more alluring and interesting than a story. The developers at eReflect suggest that parents and teachers focus on the fact that children need stories to understand the world around them, and reading books is one of the most timeless and enjoyable ways to become immersed in the worlds that stories and books describe.
Stories offer children knowledge, wisdom, and food for thought that no digital-based activity can match. Video games and entertainment apps might give a child better physical reflexes and help them boost their spatial memory skills, eReflect admits, but the opportunity for mental growth in a single book means that a child can discover so much more about themselves.
Reading is more than discovering new knowledge and experiencing fantasy worlds. Reading helps children nurture their critical thinking abilities; reading fuels their imagination, and develops their empathy and thoughtfulness towards other people. As eReflect stresses, reading achieves the important effect of "causal knowledge," the act of rationalizing and understanding how people and the world operate by reading books. This important part of personal growth is only achieved by sitting quietly and focusing on a well-written story that draws the reader in to empathize with the characters.
7 Speed Reading™, a software designed to increase speed reading, helps people read faster and more effectively. Although this is a skill many people use primarily for non-fiction works, reading any literature is easier with speed reading. Reading is one of the things people tend to abandon when their schedules are hectic, and 7 Speed Reading™ gives them the opportunity to keep up the habit of regular reading. eReflect encourages reading, as it is something that defines the human quest for enlightenment and humanity's thirst for knowledge and progress.
eReflect especially encourages children to read, as they more than anyone else should be inspired by the adults around them to become immersive, avid readers. Reading offers ideas and nurtures values, something that technology on its own cannot — at least not yet — so it's important for reading to become a vital part of children's lives, eReflect concluded.
************
For more information about the benefits of using 7 Speed Reading, please visit the official website at http://www.7speedreading.com.
About 7 Speed Reading™
7 Speed Reading is the only modern speed reading software that uses the latest technology to produce superior results.
The software provides its users with a new way to master speed reading that guarantees three times the reading speed along with improved memory and comprehension.
The software is poised as the most comprehensive speed reading system anywhere. It contains seven learning strategies, fifteen software activities, video training, advanced tracking capabilities and many more exciting features.