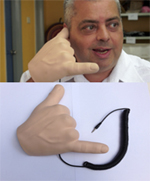 We wanted to create a fun, surreal product that will bring a smile to your face whilst still being fully functional
Hong Kong (PRWEB) May 22, 2014
Stephen Moore, designer and inventor of the Handiheadset and founder of Bad Dog Ltd a Hong Kong based bespoke sourcing company is excited to announce a kickstarter campaign that is sure to have people smiling.
The Handiheadset is a headset with a high quality speaker and microphone that can be plugged into the headphone jack of your mobile phone, or connected directly to a computer to make phone calls.
With Stephen's 20 years of experience in producing high quality bespoke products in a timely and cost-effective manner, he is confident of overcoming the traditional hurdles faced when bringing a new product to market.
Says Stephen "We wanted to create a fun, surreal product that will bring a smile to your face whilst still being fully functional. Everybody will immediately recognise the hand sign for 'call me' and we thought that it would be fun to incorporate this into a headset".
According to their website, "Kickstarter.com –Our mission is to help bring creative projects to life". Stephen added to this "Kickstarter is fast becoming the viable option to allow inventors and developers to run with an idea and bring this to completion; not only am I passionate about this project but also the model of Kickstarter that allows creators and backers to collaborate on a project allowing backers to have feelings of ownership and help the creative process".
The Handiheadset campaign will run on Kickstarter through to the 22nd June. Further information regarding this project can be found at http://www.facebook.com/Handiheadset
To follow the Kickstarter campaign please click this link : https://www.kickstarter.com/projects/485759743/handiheadset