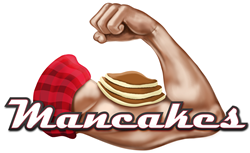 "This campaign is not about the 'perfect body', but rather about embracing a variety of men and women's healthy bodies as they show the world that making good choices like Mancakes and regular exercise can promote exceptional health benefits," said Kerry
Denver, CO (PRWEB) May 21, 2014
Mancakes® High Protein Pancake, Waffle, and Baking Mix brings health enthusiasts a unique way to celebrate their fitness! In the weeks leading up to three "selection dates," fans can upload their favorite physique photo of themselves to http://www.eatmancakes.com and rally their friends, family, and followers to vote for them. The five men and four women with the most votes will be featured on the CBS 500 square foot JumboTron in the middle of Times Square for an entire week! The ad is part of a "Body of the Week" campaign Mancakes is running now through July 15th to promote a healthy lifestyle, inspire others to make smart nutritional and fitness choices, and choose products like Mancakes® to help them meet their nutritional goals.
As part of the campaign, they are featuring singer/songwriter Jovany Javier (@JovanyJavier), part of the writing team for The Swaggernautz whose vocals were added to the hook on the Santana Feat Pitbull track, "Oye 2014" which was released on May 6, 2014. As a touring bilingual musician, entertaining more than 250,000 troops in more than 17 countries on an Armed Forces Entertainment World Tour, Jovany knows how hard it can be to stay properly nourished with a hectic schedule. "I'm so happy a product like Mancakes has finally hit the market! I love to eat them between meals as delicious yet nutritious fluffy pancakes, or when I'm on my writing tours around the world! Traveling to 17 countries with AFE performing for our troops takes its toll on the body. Mancakes helped keep my protein intakes high and maintain my gains."
"This campaign is not about the 'perfect body', but rather about embracing a variety of men and women's healthy bodies as they show the world that making good choices like Mancakes and regular exercise can promote exceptional health benefits, as demonstrated by people like Jovany Javier. The winners are determined by a tally of public votes, so it's up to the world to decide who best showcases a strong, healthy body that inspires them," said Kerry Flagg, President of Mancakes.
About Mancakes®
Mancakes® are made in Denver, Colorado at an FDA-approved facility. There are currently 2 flavor options available – Cinnamon Oat and Buttermilk, each come in a 24.7oz bag for $23.99 SRP. Mancakes® are a complete, satisfying warm meal that actually fills you up either before or after a robust workout and supports a healthy lifestyle in general. Unlike most protein products on the market, Mancakes® have NO soy, NO gluten, NO GMOs, NO added sugar, and NO Artificial Ingredients and contain 6 high-protein and high-fiber Superfoods. One serving provides 21-23 grams of protein, 19 grams of net carbs, 9-10 grams fiber, and only 2-6 grams of sugar. Mancakes® is available now at various nutrition shops around the nation, on Amazon.com, directly on their website at http://www.eatmancakes.com, and in Canada through http://www.supplementsource.ca or http://www.fitshop.ca.
For Mancakes:
http://www.eatmancakes.com
Instagram: @eatmancakes
http://www.facebook.com/eatmancakes
# # #
For Samples, Images, Product Sales or More Information, Contact:
Janis Van Tine | 310-493-1346 | janisprcakes(at)eatmancakes(dot)com