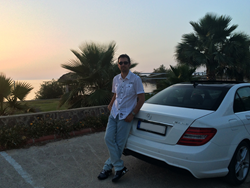 Pebbles are like money to penguins. The more pebbles a male penguin has for his nest, the more irresistible he will be to females.
London, Shoreditch (PRWEB UK) 28 May 2014
CrazyOz.com is a classifieds website for the UK that has a personals section. The website recently ran an online survey for ladies to vote for what they found the most attractive in a man. Out of 300 votes the results were;
Money & status - 38.9%
Good Humour & Charm - 26.3%
Good Looks - 25%
Macho Men - 5.6%
Other - 3.6%
From looking at the results of the survey, is it possible that humans are similar to penguins? Pebbles are like money to penguins. The more pebbles a male penguin has for his nest, the more irresistible he will be to females. Some female penguins will even mate with other males in return for pebbles as payment. Some times Zoos will provide male penguins with pebbles to help them attract a female penguin to mate with.
Many young people in the UK today cannot afford to buy their own home or even live on their own, because of the rising cost of living in the United Kingdom. According to a recent report on the BBC, more than 25% of young people in the UK live at home with their parents. Women want a man to have his own home, like female penguins want a man with his own nest. For a man to have his own home, he needs a good job and good income.
Today more people are in debt than ever. It is now more expensive to buy a house than ever and mortgages take even longer to pay. Many people today cannot even afford mortgage deposits for homes, because of the higher deposits required for a mortgage. The days of no deposits or 5% to 10% deposits went ages ago. If you are lucky and you do get a mortgage then you have to hold on to your job and hope you don't lose it or get made redundant. With the present day economy, a lot of people are worrying about these problems.
Students now have to pay to go to University in England and they are getting themselves into massive amounts of debt. After they finish University, some have problems finding work and others have trouble finding work that pays a decent wage. Being in debt and also being in an underpaid job can lead to mental stress and depression.
According to a recent report, more than a quarter of Londoners are in poverty. London has problems with child poverty, young adult unemployment, low wages and high housing costs, these problems are not just limited to London either. There is a big gap between the rich and the poor and unfortunately the situation seems to be getting worse. Not long ago, The Telegraph newspaper reported that the super-rich are getting richer while everyone else is getting poorer. Many people who have lived in London all their lives are having to move out of the capital due to the increasingly higher living costs and low paying jobs.
The Independent newspaper ran a news report on the research from a University that found one in 25 fathers raise another man's child and do not know that the child is not theirs. The reason for this could be that women want a baby with a man they find sexually attractive and has good genes, but these men are not always good wage earners and they are not always loyal. So some women will have a baby with a man they find handsome and then say it is the baby of a good wage earner who can provide financial security for her and the baby.
Jenny who is 28 years old and has lived in London for the past 11 years says: "When I was younger, I thought love was the most important thing to find in a partner, but now I am older and wiser, I have realised that love does not pay my bills and living in London can be very expensive. Of course I want to find love, but I also need a man who can earn a good wage. I do not want to worry about paying my bills. A man does not need to be extremely rich, but he must have a good job. I do not want a man who asks to borrow money from me or a man who wants to go Dutch. A man should be a provider."
Oz, the founder of CrazyOz who is a computer programmer stated, "A lot of people in London are in financial difficulty and are struggling to pay bills. The media says that everything is fine, but I would disagree. A lot of my friends in London have University degrees, but not all of them are employed in their profession. I have a friend who has a degree in Computing and he works a night shift as a shelf stacker in a supermarket. He applied for lots of IT jobs and he could not even get an interview, because he lacked experience. Many jobs that were previously done by hand are now automated with machines such as till jobs in supermarkets, ticket machines in tube stations, robots in factories, and I'm sure they will have robots to stack supermarket shelves soon enough. Things will only get worse as more jobs become computerised. I think women want a man with a good job to avoid any financial problems when they have children. They naturally want their babies to grow up in a safe environment and be able to provide them with necessities easily."
To sum it all up, if a man has money, women will find him attractive. The more money he has, the more attractive he will be to females seeking a mate. In today's recession hit society, money is more important than ever for a man to have when seeking a partner. Unfortunately, love does not feed anyone or pay the bills.