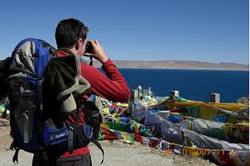 Lhasa, Tibet (PRWEB) June 14, 2014
In recent years, Tibet has attracted more and more new visitors with its increasing accessibility. But many travelers have no idea how to prepare a trip to this unique destination with high altitude and harsh environment. Tibet Travel Org, the top online Tibet tour operator, shares some practical advice with first-time visitors to Tibet.
1. Seek advice from a doctor before going to Tibet of you have heart issues.
A thorough physical examination is necessary before going to Tibet, which has an average elevation of over 4,000 meters. Generally, people who have problems like anemia, hypertension, heart issues or other illnesses in the lungs, liver or kidney are not advised to travel to Tibet. Travelers can also prepare some medicine according to their doctor's advice.
2. Enjoy a train ride on Qinghai-Tibet Railway at least once.
Qinghai Tibet Railway is world-wide known not only because it is the highest railway in the world, but also because it is a man-made world wonder and an engineering miracle. Many world-class challenges were solved during its construction, like fragile ecosystem, lack of oxygen and permafrost. Moreover, the scenery along the route is breathtaking. Those who travel to Tibet for the first time are highly recommended to take a train to Lhasa from Beijing, Shanghai, Chengdu, etc.
3. Choose a comfortable level hotel in Tibet.
Travelers usually need to have a good rest to acclimatize to the high altitude of Tibet. A hotel with good facilities and services will make them comfortable. In addition, the temperature at night often drops rapidly to below zero in Tibet, even in summer. Cheap hostels or guesthouses do not offer heating or air conditioning. Thus, it is best to stay in a good hotel.
4. Spend two or three days in Lhasa for acclimation.
Located at 3,650 meters above sea level, Lhasa is a relatively lower place. It is the first destination for most travelers. After arriving in Lhasa, travelers should spend at least two days for acclimatizing the high altitude before moving on to other places.
5. Do not make a tight schedule.
Since most areas of Tibet are over 4,000 meters above sea level, travelers should go slowly from one place to another, especially from a lower place to a higher one, for example, travel from Lhasa to Everest Base Camp. It is important to spend enough time to gradually acclimate the high altitude.
6. Go to a regular hospital or registered clinic when getting ill.
There are regular hospitals with basic facilities in major cities and towns of Tibet, like Lhasa and Shigatse. But in remote areas, only simple clinics are available. Some of them are non-registered. Travelers who fall sick in Tibet should seek appropriate medical care in a regular hospital or registered clinic.
7. Seniors are recommended to start their trip from Nyingchi.
With an average elevation of 3,100 meters, Nyingchi is the lowest area of Tibet and home to huge well-preserved forests. It is regarded as the "Switzerland of Tibet" thanks to the humid and mild climate, charming scenery and rich natural resources. The oxygen content in this area is also very high, so it is a great place for seniors to acclimatize the high altitude of Tibet before visiting higher places.
8. Do not stay overnight at a place higher than 5,000 meters.
High altitude sickness easily attacks at an elevation over 5,000 meters above sea level, where it is usually difficult to find a hospital. It may take a couple of hours or more than half a day to get to a simple clinic unless you are staying in a big town or city.
9. Confirm the tour itinerary at least 15 days before going to Tibet.
When applying for Tibet Permit, travelers are required to provide information about when and where they will travel in Tibet, even how to get to Tibet. All the information will be stated on the permit after being approved by the local government.
10. Find travel mates
Generally, it is a little expensive to do a private tour in Tibet, but the tour cost can be reduced as much as 50% by joining in a tour group. If travelers book a tour from Tibet Travel Org and join in a group with more than three persons, they will enjoy extra discounts.
About Tibet Travel Org CITS
Tibet Travel Org, Tibet Vista Tour (http://www.tibettravel.org), the top online Tibet tour operator, annually sends more than 1,000 individual travelers and over 100 tour groups to Tibet. It helps travelers to obtain the Tibet Permit, book air/train tickets to Tibet and customize their tours. The company also keeps travelers updated on latest Tibet information on Facebook (tibettravel.org) and twitter (@TibettravelOrg).