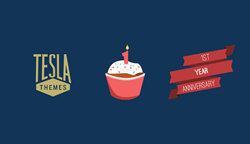 We're very happy with the results so far: we estimate to have 40+ premium themes at our 2nd anniversary, we're working on 4 brand new WordPress themes, our client base is growing fast and we became well known in the community.
Szczecin, Poland (PRWEB) May 23, 2014
TeslaThemes announces its 1st year anniversary and 2 limited time offers with generous discounts and a giveaway with WordPress themes, plugins, tools, icons, etc. (total worth of prizes: more than $1400).
5 winners will be announced on 2nd of June, 2014: each of 4 winners will get a bundle with tools, themes, plugins, icons, etc. and 1 winner will get the big prize: an iPad mini with Retina display.
TeslaThemes was launched on 25th of May, 2013 with a goal to release 2 new WordPress Themes per month and extend its portfolio with premium templates for a wide range of categories, including: business WordPress themes, eCommerce themes, portfolio WordPress themes, magazine themes, photography themes, creative themes and more. Currently, their portfolio includes 24 premium WordPress themes with modern, responsive design and a powerful framework. Its community consists of more than 10,000 users, from which more than 65% are paid subscribers.
The team behind TeslaThemes designed a beautiful infographic listing all their important achievements, events and statistics, including:

The most sold WordPress themes and subscription pack
Number of themes and their categories
Number of active users and paid subscribers
Technical support highlights
Social media statistics and promotions
Team members and their job titles
Additionally, for a limited period of time all the visitors of the site will be able to get any WordPress Theme or annual subscription pack at $14,99. The offer expires on 30th May, 2014 and will be followed by a new pricing adjustment. TeslaThemes invites all its new and existing users to celebrate their 1st year anniversary and benefit from their limited time offers.