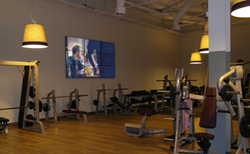 The solution we've designed for Holmes Place . . . speaks to our rapid progress in expanding our solutions expertise to new global markets. - Claude Nahon, President Mood Media International
Austin, TX (PRWEB) May 21, 2014
Mood Media Corporation (TSX:MM / LSE AIM:MM), the world's leading designer of in-store consumer experiences, today announced that it is working with Holmes Place Poland - the Warsaw branch of the premium health and fitness brand that has been operating health clubs for over 30 years and serves over 250,000 members worldwide. Mood is helping Holmes Place to develop its customer experience at its Polish site by installing a floor-to-ceiling video wall, the first Mood has installed in the country, and reinforcing the brand's musical DNA via a major sound system implementation.
The video wall, which consists of nine 46" screens, provides the company with a digital canvas through which they can promote the Holmes Place brand and the club itself. The screens display brand-owned content, seamlessly combined with content from Mood Atmospherics HD. The video wall is designed to easily display multiple sports TV channels during important international and country-wide sporting events.
The exclusive Holmes Place music channel, adapted to the daily rhythms and patterns of the health club, also benefits from the installation of a high quality, custom sound system throughout the gym, fitness area, changing rooms and reception.
"The solution we've designed for Holmes Place is a first for us in Poland. It speaks to our rapid progress in expanding our solutions expertise to new global markets, and we look forward to continuing our visual growth across Europe," said Claude Nahon, president of Mood Media International.
-----------------------------------
About Mood Media
Mood Media Corporation (TSX:MM/ LSE AIM:MM), is one of the world's largest designers of in-store consumer experiences, including audio, visual, interactive, scent, voice and advertising solutions. Mood Media's solutions reach over 150 million consumers each day through more than half a million subscriber locations in over 40 countries throughout North America, Europe, Asia and Australia.
Mood Media Corporation's client base includes more than 850 U.S. and international brands in diverse market sectors that include: retail, from fashion to financial services; hospitality, from hotels to health spas; and food retail, including restaurants, bars, quick-serve and fast casual dining. Our marketing platforms include 77% of the top 100 retailers in the United States and 49 of the top 50 quick-serve and fast-casual restaurant companies.
For further information about Mood Media, please visit http://www.moodmedia.com. Follow us on Twitter https://twitter.com/moodmedia and connect with us on Facebook http://www.facebook.com/moodmedia.