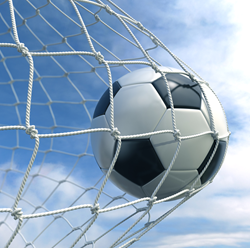 ...excitement of sports will put thousands in the risk of athlete's foot...
(PRWEB UK) 22 May 2014
Over 1 million people in the UK are thought to have a nail infection (NHS Choices) and up to 1 in 5 people have Athelete' s Foot (Boots WebMD) a problem soon to be faced by many during the upcoming sports season. Summer 2014 will enliven the thirst of millions of football fans around Britain, who no doubt will take part in England's most popular played sport.
As Brits gear up for the WorldCup2014, footy fanatics will be encouraged to show off their skills on the pitch, in football events held all around the UK. However, many are unaware that the excitement of sports will put thousands in the risk of athlete's foot and further possibilities of nail infections.
ClearZal® Complete
Sharing changing facilities with others, injury to the nails, sweaty feet or contaminated shoes are all common risk factors in developing infections of the foot, such as athlete's foot. Athlete's foot affects a wide population from young teenagers to the older generation. Contact with fungus, bacteria and viruses can cause severe athletes foot and if not dealt with quickly can spread to toe nails causing them to become yellow, dry and crumbly.
The misconception that fungus is the root cause of all nail infections is common place. In fact germs can be made of fungus, bacteria or viruses, of which 50% of nail infection cases are caused by fungus and 50% by bacteria and viruses.
Nail infections can be an embarrassing issue and for many can lower self-esteem and overall confidence. ClearZal® Complete can kill germs which may cause infections and prevent the spread of infections to other nails. ClearZal® Compete is the only all-in-one solution to kill 99.9% of ALL the fungus, bacteria and viruses which may cause foot and nail infections.