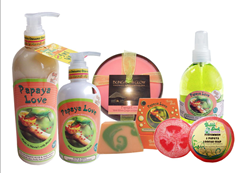 The Bubble Shack Clearance Bin offers huge savings.
Pearl City, Hawaii (PRWEB) May 30, 2014
Bubble Shack Hawaii is known for creating products that are uniquely Hawaiian and made from simple, natural, and organic ingredients. These products include coconut butter body lotions, shea and aloe Hawaiian body washes, soy candles, and other related products. Now, these products can be purchased with a deep discount in the Clearance Bin.
The Clearance Bin features products that may be slightly damaged, as well as bulk items that are the result of a retail outlet take-back. The effectiveness and integrity of the products remains intact, but purchasers can enjoy a deep discount. The Clearance Bin products are all final sale.
"The Bubble Shack Clearance Bin offers huge savings. If you aren't concerned with packaging and just want the quality inner Bubble Shack items at nearly 80% off retail in some cases, this is your chance to load up!" states Holly Harding, co-owner of Bubble Shack Hawaii.
For example, there is currently a deal in the Clearance Bin that offers 21 assorted Bungalow Glow Poi Bowl candles for $65. These candles burn and smell just like the full-priced options, but have some defects, such as packaging tears, dust, or a scratch in the wax. Typically, the Bungalow Glow Poi Bowl candles sell for $9.59 up to $16.99.
Get great deals on genuine Hawaiian products in the Clearance Bin at BubbleShackHawaii.com.
About Bubble Shack Hawaii:
Bubble Shack Hawaii is based in Pearl City on the island of Oahu, Hawaii and focuses on natural bath and body products and soy candles. Since 2005, Bubble Shack has been fulfilling the need for revitalizing products that are ocean and environmentally friendly.