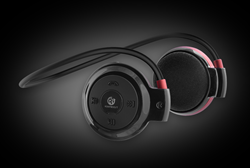 SWAGE Sport Bluetooth Headphones are perfect for easy, hands-free listening to crystal-clear audio while enhancing any workout regimen
New York, NY (PRWEB) June 03, 2014
Leading mobile accessories innovator Rokit Boost is proud to announce a new addition to its line of greatly-popular, high-performance Bluetooth headset offerings. Carefully engineered for easy, wireless usage while in the gym, the SWAGE Sport Bluetooth Headphones come with the latest Bluetooth chipset technology and a flexible-and-comfortable headband design. The headphones are easily adapted for use in other situations. For a contemporary feel, the headphones are available in stylish red and black color options.
Easy, Hands-Free Listening
Working out is certainly demanding of one's time and attention. With the SWAGE Sport Bluetooth Headphones, users do not have to deal with any troublesome wires or worry about dropping their smartphone. These contemporary Bluetooth headphones are equipped with Bluetooth V4.0 capability, backed by atpX® support for premium-grade Bluetooth® stereo audio quality. In other words, the SWAGE Sport Bluetooth Headphones are perfect for easy, hands-free listening to crystal-clear audio while enhancing any workout regimen.
Exceptional Comfort and Aesthetics
Rokit Boost's SWAGE Sport Bluetooth Headphones sports a flexible and foldable headband design. The headphones comfortably loop around a user's ears so that they can be used for any workout activity. Users can engage in involved physical activity including running, jogging, or doing handstand push-ups, and the headphones will not fall off.
The Bluetooth headset's exceptional audio quality is augmented by its strong aesthetic appeal. The solid black or darker, mid-toned red options will meet today's high standards for mobile devices and how they appear. With the SWAGE Sport Bluetooth Headphones' fitting-but-comfortable wear-ability, mobile consumers will be impressed by the wireless headphones' comfort-ability and overall functionality.
This wireless headset requires little time for charging and can be used for hours of listening to a user's favorite playlists or hands-free chatting with family, friends, acquaintances, or colleagues.
A lightweight body and overall strong performance-ability add further consumer value to the mix.
Product Availability
Rokit Boost's SWAGE Sport Bluetooth Headphones are available for $49.99 through Rokit Boost's online store. More details, including pricing, Rokit Boost's 30-day money back guarantee, and the wireless headphones' one-year warranty can be found at: http://www.RokitBoost.com
For a limited time, Rokit Boost has a limited inventory of free SWAGE Sport Bluetooth Headphones for sampling by independent mobile consumer lifestyle bloggers and independent product reviewers. Bloggers and reviewers are invited to contact Rokit Boost directly for more details.
Other mobile consumer products can be found on Rokit Boost's online store, including high-performance power banks, smartphone battery cases, wireless keyboards, Bluetooth speakers, and more.
About Rokit Boost
Rokit Boost is a pioneer of affordable, high-quality mobile accessories. Whether they are innovations including iPhone charger cases, Bluetooth headphones, or wireless Bluetooth speakers/microphones, Rokit Boost's team seeks to add substantial enhancements to great existing products.
The company also offers a refurbishment program of certified products for exceptional customer value, at reduced pricing.