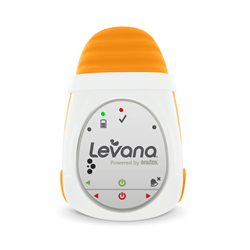 Niagara Falls, Canada (PRWEB) May 21, 2014
Levana, a brand of easy-to-use, stylish and high value baby monitors, announces that its OmaTM Movement Monitor will become available in Walmart stores across Canada beginning this week. The partnership with Walmart Canada allows Levana to give even more parents peace of mind to do more while their baby sleeps.
Previously only available online, the Oma Monitor is the first Levana monitor to be sold in-store in Walmart Canada, and will roll out in 267 stores this month.
"The enthusiastic reviews for the Oma Monitor on Walmart.Ca showed us that there is a great need for a reliable Movement Monitor in the Canadian market," said Raj Jain, Managing Director at Levana. "We're excited to expand upon our relationship with Walmart and bring parents shopping in the store (or creating baby registries) a dependable and affordable movement monitor with the state-of-the-art features Levana is known for."
The Levana Oma Powered by Snuza Movement Monitor is a cordless and battery-powered movement monitor that helps give parents an extra layer of peace of mind when it comes to their soundly sleeping infant. Oma clips directly onto the diaper and senses a baby's tiniest movements with a soft, flexible sensor near the belly button. The sensor will beep loudly to alert parents if more than 15 seconds of complete stillness is detected. The Oma also detects weak and irregular movements and is completely portable. The monitors are digital and wireless, eliminating the risk of cord strangulation and are safe for use in Moses baskets, bassinettes and playpens.
The Levana Oma Movement Monitor will retail for $89.97 at Walmart Canada.
About Levana:
Levana is a brand of easy-to-use, stylish and high value baby video, audio and movement monitors that give parents the freedom to worry less and do more, knowing their child is safe. Named after the ancient Roman goddess who kept a watchful eye over sleeping children, Levana is dedicated to baby safety. The monitors have all the state-of-the-art features that parents want, which gives them peace of mind to do more without worry.
Links:

###