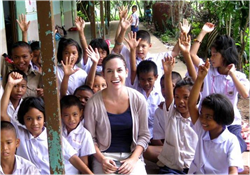 Allentown, Pa. (PRWEB) May 23, 2014
Cedar Crest College alumna Laurian Della '13 is a 2014 Fulbright Scholarship recipient and will travel to Indonesia to teach English next year. This grant is both prestigious and competitive, with past honorees moving on to become political leaders, Nobel Peace Prize winners, renowned artists and more.
"I could not be happier to be the recipient of the Fulbright Scholarship," said Della. "My current work in Thailand has proven to be the most meaningful experience of my life and I am incredibly grateful and eager for the opportunity to continue this line of work in a new country."
While at Cedar Crest, Della studied abroad in Seoul, South Korea. Her time there, combined with her experiences in the Social Justice Living Learning Community (LLC) and Existential Psychology class motivated her to pursue teaching internationally.
"Education is a means to positively change the academic prospects, career opportunities, and overall living conditions of not just an individual, but an entire community. My psychology and LLC classes inspired me to use my passion for education to find meaning and purpose within my own life."
Della has volunteered as an English teacher with the International Coordination Center for Volunteer Teachers in the rural provinces of Thailand for the past seven months. She works with students of all ages to improve their conversational skills and English literacy. English lessons in Thailand that are taught by native speakers, according to Della, are only available in wealthier communities.
"I volunteered as an English teacher in poverty-stricken regions of Thailand in order to increase the English proficiency of rural, impoverished students so that they may have an equal probability of pursuing higher education and obtaining a consistent, reliable job," she said. Della added that that fluency in English greatly enhances a person's prospects for educational attainment and career advancement.
Della said her work in Thailand inspired her to research additional opportunities to teach abroad. When Cedar Crest's Director of Global Initiatives and International Programs, Jenny Weatherford, told Della about the Fulbright English Teaching Assistant program, she said she immediately began looking into areas where her experience could be put to good use. Her interest in making a difference by providing English lessons and developed passion for teaching pointed her to Indonesia.
Della said she feels it is essential for college students to take advantage of study abroad opportunities in order to experience other cultures, other communities and facilitate personal development.
"Traveling abroad will prove to be one of the most enlightening experiences of your life. It will allow you to critically evaluate your cultural and personal values, and introspect to find your true source of meaning and your passion," she said.
Della graduated from Cedar Crest in 2013 with degrees in Psychology and Art Therapy. While at Cedar Crest, Della was involved in several clubs and organizations including Global Eyes, the Cedar Crest College Christian Fellowship, Psi Chi (psychology honors society), Alpha Phi Omega (service fraternity), and International Student Organization.
If you're interested in reading about Della's experiences abroad, be sure to check out her blog that takes you along on her journey overseas: http://lauriandella.wordpress.com/.