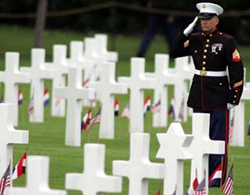 Make time to mourn and stick to it.
New York, New York (PRWEB) May 22, 2014
Memorial Day, originally called Decoration Day, is a day dedicated to the remembrance of war heroes who died in the name of the United States of America. History informs us that the last Monday in May is slated to honor the men and women who gave their lives while in service to this nation. In death they left siblings, parents and friends the task of living their lives without their fallen hero. Not a day goes by when they forget about their lost loved one. They mourn them, miss them and remember them.
Loss is hard enough when it occurs within the expected parameters of a life lived into the winter of time. When death occurs and the life of a young man or young woman is cut short, the grieving process is entangled with an angst that often leaves the mourners unable to move on with their lives. When enmeshed in the grips of mourning, the dance of grief can be unstable, weaving a web often difficult from which to disentangle.
Here are 5 tools to turn grief into grace:
1. Honor the loved one by living life: Engage in activities that create calm, balance and joy. This is different for everyone. For some, yoga, dancing, seeing a movie or telling a funny joke create a sense of calm.
2. Find others who have lost a loved one: Don't go it alone. Months of active grief can turn into years. When others share a story of loss, a community of support is created. With mutual support the process of mourning is less complicated and normalized.
3. Remember peacefully: There is a good chance that the loved one chose to be in the armed forces. Make Memorial Day a time to share stories about the veteran. A gathering of people who knew the vet creates a solid alliance. Shared grief stops the sense of alienation that often accompanies the complexities of the mourning process.
4. Be true to what is felt: Make time to mourn and stick to it. Making a date with the grief can create a place in the brain that understands the importance of honoring the part of the self that is distraught, has regrets or experiences an array of emotions.
5. Do not ignore feelings move to unlock them: this will alleviate anxiety, depression, sleeplessness and illness that often accompany a prolonged unsupported grieving process. Observe and act on the feelings, allows for a relationship with the grief.
Nathan believes, "These tools will manifest an ability to live with grief so it does not corrupt your ability to live life with internal peace and joy"
For a complimentary grief meditation and more information about other topics related to grief, loss and trauma, please visit here.
About Edy Nathan:
Edy Nathan is a licensed psychotherapist with over 20 years of experience specializing in grief. For two seasons she was the therapist on the A&E TV Show, "Psychic Kids". She holds Masters from both New York University and Fordham University. She has post-graduate training from the Ackerman Institute for Family Therapy, The Gestalt Center and the Jungian Institute. She is a certified EMDR practitioner, regression therapist, certified hypnotherapist and grief expert. To find out more, visit EdyNathan.com.