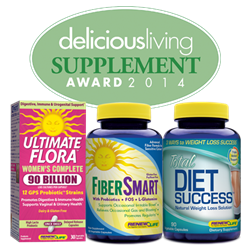 We are so proud to have three of our best-selling products recognized by Delicious Living magazine, one of our industry's most trusted health and wellness resources.
Clearwater, FL (PRWEB) May 29, 2014
Notable Supplement Resource
Delicious Living magazine has been a trusted health and wellness resource for more than 25 years. The selection process is based on nominations from retailers, manufacturers, readers and the Delicious Living advisory board.
"We are so proud to be recognized for these three best-selling products," stated Brenda Watson, public television health educator and ReNew Life President and Founder. "We introduced Ultimate Flora Women's Complete 90 Billion last year, and it has become exceptionally popular. It is formulated with specific Lactobacillus and Bifidobacteria strains to support a woman's vaginal and urinary health, as well as her digestive and immune health," Watson explained.
"Our FiberSMART is truly a quality fiber formula, and works well for most everyone, even for those with sensitive colons. And our Total DIET Success has proven to be a popular weight loss formula. It contains clinically studied Svetol®, and is enhanced with LuraLean® and green tea extracts for optimal performance," stated Watson.
Winner in Best Women's Health Category
Ultimate Flora Probiotic Women's Complete 90 Billion
Formulated for a woman, by a woman, Ultimate Flora Women's Complete is a high-potency probiotic with 90 billion live cultures per capsule of 12 specially selected GPS Probiotic™ Strains (Gastrointestinal Probiotic Strains) that occur naturally in the digestive and urogenital tracts of women. Seven Lactobacilli strains with 54 billion Lactobacilli cultures produce beneficial compounds that support a healthy balance of bacteria and yeast in the digestive and urogenital tracts. Five strains with 36 billion Bifidobacteria cultures support digestive and immune health, promote regularity and help replenish the Bifidobacteria that is lost as we age.
Ultimate Flora Women's complete features delayed-release vegetable capsules designed to resist stomach acid, and potency is guaranteed until expiration. It is dairy and gluten-free, and packaged in Fresh-Assure glass bottles for ultimate freshness.
ReNew Life's Ultimate Flora probiotic brand has received the 2014 ConsumerLab.com Survey Award as the Top-Rated Probiotic Product based on Consumer Satisfaction. For more information see http://www.consumerlab.com/survey2014.
Finalist—Best Digestive Health Category
FiberSMART
FiberSMART is a non-cramping, psyllium-free, daily organic flax fiber formula. The natural ingredients in FiberSMART promote regularity and provide powerful relief for occasional gas, bloating, constipation and irritable bowel. Added probiotics, L-glutamine, FOS and soothing herbs promote overall digestive health and help maintain a healthy balance of intestinal flora. It is gluten free with no added artificial ingredients.
Finalist—Best Weight Loss Category
Total Diet Success
Total DIET Success is a unique, powerful triple-action formula designed to aid appetite control and provide thermogenic and metabolic support to help you reach your weight loss goal:

Appetite Reduction with LuraLean®—LuraLean's natural dietary fiber can help increase fullness and reduce cravings, as well as regulate calorie absorption and support healthy blood sugar levels already within normal range.
Calorie Burning with GreenBURN™—The blend of three green tea extracts in GreenBURN, amplified with yerba mate, ginseng and more, helps to enhance metabolism, boost energy and promote weight loss.
Fat Metabolism with Svetol—A popular European weight loss aid, Svetol green decaffeinated coffee extract helps delay the absorption of sugar in foods, allowing the body to more quickly switch to burning fat for energy.
Total DIET Success is easy to use, simply take 2 capsules twice a day with at least 8 ounces of purified water.
About Renew Life
A leader in Natural Digestive Care, ReNew Life Formulas was founded in 1997 by Brenda and Stan Watson and offers a full spectrum of award-winning, digestive-care supplements and functional foods. Each ReNew Life product is made from only the finest raw ingredients. The company's analysis, educational materials, customer service and superior manufacturing practices all set the benchmark for others in the industry. Above all, ReNew Life is dedicated to helping their customers achieve and maintain optimal health, increase energy and enhance mental clarity.
For additional information on ReNew Life's Ultimate Flora Women's Complete Probiotic 90 Billion, FiberSMART or Total DIET Success, please contact Bcooper(at)renewlife(dot)com.