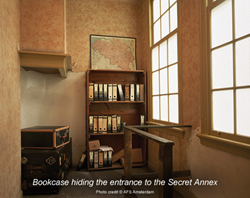 "When someone comes in from outside, with the wind in their clothes and the cold on their faces, then I could bury my head in the blankets to stop myself thinking: 'When will we be granted the privilege of smelling fresh air?' - Anne Frank
New York, New York (PRWEB) May 23, 2014
The Anne Frank Center USA will honor five exceptional high school seniors as well as pay tribute to the Hidden Children of the Holocaust on June 12, 2014—what would have been Anne Frank's 85th birthday. The awards ceremony will take place at ESPACE 635 West 42nd Street, between Eleventh and Twelfth Avenues. A cocktail reception and silent auction will begin at 6:00pm, followed by a dinner and the award ceremony at 7:00pm. In addition to the awardees, guests will include dozens of adults who were hidden as children during World War II.
Anne Frank was but one of thousands of Jewish children who were in hiding during World War II. Jewish children died at a rate far higher than adults in the Holocaust. Along with pregnant women, they were often immediately sent to the gas chamber upon arrival at a concentration camp. Consequently, it is estimated that only 6-11 percent of Jewish children living in Europe before World War II survived, compared to 33 percent of adults. The few that did survive often did so by denying their identities as Jews, housing with Christian families or religious organizations, or physically hiding in attics, closets, barns, fields, and cellars. They lived in danger and fear.
As one way of honoring these children, The Anne Frank Center USA confers The Spirit of Anne Frank Awards to high school seniors who exemplify Anne's ideals for a more peaceful and just world. Many of these students have founded programs that specifically cater to the needs of vulnerable children; all of them have committed themselves to the pursuit of equality and tolerance. This year the awardees include:
The Leah and Edward Frankel Supporting Foundation Scholarship Award
Alexis Joan Werner
After her stepfather returned from a tour of duty in Afghanistan physically and mentally depleted, Alexis began three separate projects in her hometown of Pittsburgh to raise awareness about PTSD and to aid veterans.
The ING Scholarship Award
Derrick Parker
Hoping to inspire less fortunate youth, Derrick co-founded a mentoring program called "Each One Teach One" in Kansas City, MO, which pairs junior and senior males at his highly accredited preparatory high school with nearby elementary school students.
Outstanding Student Awards
Neha Gupta
At just nine years old, Neha founded the non-profit "Empower Orphans" to help orphaned and underprivileged children in India. To date, the organization has raised over $1,300,000 for libraries, computer centers, health clinics, and home goods.
Claire Helmen
Determined to help children of domestic violence victims, Claire began "Claire's Comfort for Kids," a program that places blankets in police cars to comfort children in these situations. Each blanket is made by another child and has a note of encouragement attached.
Isabel M. Zayas
After struggling with anxiety and depression early in high school, Isabel founded the first LETS chapter in her home state of Connecticut. The national organization—which stands for "Let's Erase the Stigma"—raises awareness about mental health issues affecting teens.
"These students—just teenagers—remind us that children are often the most powerful proponents of optimism, vitality, and strength," says Yvonne Simons, Executive Director of The Anne Frank Center USA. "Like Anne, they have managed to make the most out of the worst of situations. As we honor her and other hidden children of the Holocaust, we are reminded that no child anywhere, under any circumstance, on any side of conflict, should be victimized."
For more information or to attend The Spirit of Anne Frank Awards, please visit http://www.annefrank.com.
Press Contact:
Ashley Nelson
Marketing and Communications Manager
212-431-7993 ext. 307
anelson(at)annefrank(dot)com